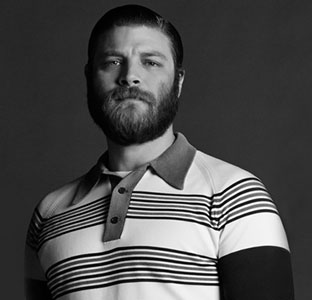 Sometimes actors find joy in the little things.  One of the highlights of Jay R. Ferguson's time playing Stan Rizzo on Mad Men was the chance to grow an insane beard for the role.
"Back in August, they asked me to start growing it out," he said in an interview with Vulture.  "They said, 'We don't want you to shave until you report to work for the first makeup and hair test.'  Well, the first makeup and hair test wasn't until October 28.  So we're talking about three months of not shaving.  When I showed up I looked like a cross between Jeremiah Johnson and Tom Hanks in Castaway.  It was too much.  Way too much.  Double what you see on the show is how big it was, so obviously they trimmed it down to where they wanted."
Ferguson noted that series creator Matthew Weiner is in charge of every element of the show—including the characters' facial hair.  "It's fair to say he weighs in on every single aspect of the show and is heavily involved, if not completely involved, in every decision that's made," he said.  "He certainly had an opinion, and that's what the makeup and hair test time period was for, to get all that straightened out and figure out who was going to have what, and who wasn't, and here we are with me looking like a homeless guy."
Another benefit of playing Stan is that the character is mostly high all the time.  "I've had the most fun playing him out of everything I've ever done," Ferguson admitted.  "I've just been so grateful physically and material-wise with all the perks they've given me this year.  Yeah, he is high, I'd say 75 percent of the time.  He probably lays off when it comes time for a pitch.  He's traded his cigarettes for joints."
In a recent scene with costar Jon Hamm, fans suggested that Ferguson actually got Hamm to break character.
"I would be absolutely honored if I made John Hamm crack, because he is uncrackable," he said.  "He is very stoic, and it takes a very, very special moment to get him to break.  But, no.  I think there were some takes, if I remember correctly, where I genuinely made him laugh, but I think Don was supposed to be laughing.  We were both enjoying the moment.  But there were some takes it didn't work, or it didn't come out as funny, and he wouldn't laugh!  I mean, he's a very real actor and a very reactive actor, so if I wasn't being funny he wouldn't laugh."
Mad Men airs on AMC, Sundays at 9 p.m.