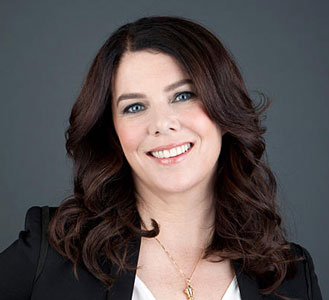 These days it is pretty common for actors to have multi-hyphenate careers—fashion designers, singers, directors.  But it's rarer for actors to become novelists.  Lauren Graham is taking up the title of bona fide writer with her new book, Someday, Someday, Maybe.
"I wanted to write a book," she said in an interview with Huffington Post. "There were times and days when it was fun and exhilarating and a lot of days where it was really hard."
Graham's novel follows the life of an aspiring actress named Franny Banks who spends her 20s living in New York City in the 1990s.  "I was more interested in the waiting, auditioning…and that feeling when you're on the outside of something looking in," she said.  "So many people in general and young actors specifically spend so much time there, and many people never get beyond that.  I just thought that's what I wanted to focus on."
Of course, Graham did move past the aspiring stage, after gaining fame as Lorelai on the WB's beloved series Gilmore Girls (which aired from 2000-2007.)  She's currently starring in another critical darling, NBC'S Parenthood (the network just announced the series will be picked up for a fifth season.)
Graham decided to include pages of a calendar in her novel to show the crazy schedule that an actor leads.  "In the 90s, the way you kept your calendar was to write it down, and I well remember at the end of a year you could look back and see literally, physically your year," the actress recalled.  "So much of being an actor at any level is waiting.  Especially when you're starting out, the waves are even more dramatic of nothing versus something."
The 46-year-old admits she can see her novel being adapted for television.
"To me it would be a compelling TV show because it lends itself to that serialization…and Mae Whitman will star as Franny Banks…after she's done playing my daughter on Parenthood," Graham joked.
Someday, Someday, Maybe is in stores now.