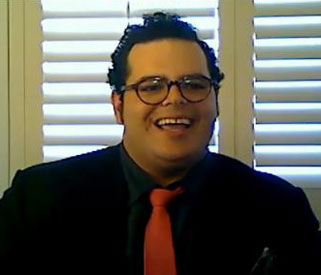 In a recent interview with The Wall Street Journal, Book of Mormon star Josh Gad talked about his inclinations towards physical comedy, whether or not the stage presence he's exhibited during the Broadway musical's three-month run can translate to film and seeing familiar faces in the audience.
"I think physical comedy is an amazing asset because it tells a story that's more universal than just language and dialogue. I grew up watching Charlie Chaplin and Buster Keaton. They're very powerful figures in my life," Gad told the newspaper about his unique brand of comedy.
"This is so transcendent of the medium that it's hard to compare it to anything else," said Gad when asked about the transition from theater to film. "Yesterday was Jack Nicholson, today was Gene Wilder. I don't know of another opportunity where those two people come to see a show in a week, where they are one of 40 A-listers. This is a game changer." The 30-year-old actor also reported that U2 guitarist The Edge attended a recent Book of Mormon performance.
Written by South Park co-creators Matt Stone and Trey Parker, The Book of Mormon tells the tale of a pair of Mormon missionaries on a trip to Uganda and the difficult time they have converting the natives there to the Western religion.