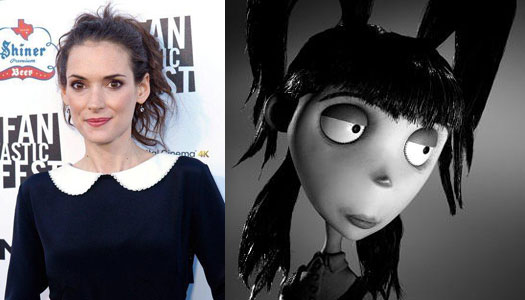 Winona Ryder is teaming up with Tim Burton for the new animated film, Frankenweenie, after first working with the director on Beetlejuice in 1988.
"I've known Tim Burton for 25 years, and I credit him with my career—I really mean that," she said in an interview with Flicks and Bits.  "I don't know if…acting was sort of an accident for me.  I wasn't going on auditions and trying to be an actor.  I was actually sort of discovered in San Francisco and I'd done only two movies, small parts, and I remember my parents were very picky—because we had to drive from Northern California for Beetlejuice, it was like 9 hours to get there, and I remember very well when I first met Tim."
"I was sitting, waiting to meet him and this guy came in and started talking, talking about movies and music and 25 minutes later I was like, 'When is this Tim Burton guy coming?'  And he was like, 'That's me!'  And I was like, 'OH….'  I had no idea that a director could actually be so cool and I could easily hang out with them, you know?"
Frankenweenie is in theaters.