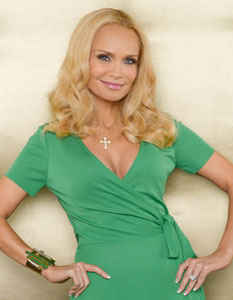 Kristin Chenoweth disagrees with those that criticize her new show, ABC's GCB.  The actress says the show's mocking tone is not meant to discount the Christian religion.   
In an interview with posted on Yahoo! News, Chenoweth noted her own religious upbringing.  She said, "That's what cracks me up about any controversy there's been about the show.  I wouldn't do anything that made fun of my religion.  I just wouldn't!  There's a difference in making fun of and having fun with, and this is our world.  That's how I grew up."
The show, based on Kim Gatlin's Good Christian Bitches, is one place where Chenoweth is showcasing her power-house voice. Her character often gets to belt out tunes during church, including a recent episode where she sang Carrie Underwood's "Jesus, Take the Wheel." 
The Tony-award winner often gets asked about her big voice, given that she is only 4'11''.  Chenoweth said, "I know that the shorter the larynx, the higher the voice—which obviously makes perfect sense with my speaking voice, but I don't know.  I think training had a lot to do with it—my voice teacher opened my voice.  I grew up singing gospel and country music and then opera—that kind of sound—came to me later in life in college.  It took five years, but I trained hard.  I worked hard."
GCB airs on ABC on Sunday nights at 10.