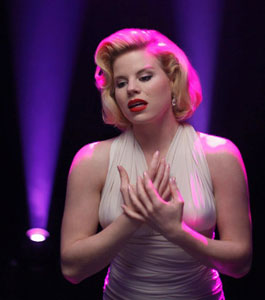 As if playing an actress playing Marilyn Monroe on TV's Smash wasn't enough, Megan Hilty is now taking her Monroe association a step further. 
Hilty has been cast in the role of Lorelei Lee in the New York City Center production of Gentlemen Prefer Blondes, a role that Monroe herself starred in for the 1953 film adaptation. 
Hilty spoke to the New York Post about her Monroe connection and how she manages stepping into roles made famous by beloved actresses.
Hilty points out that she didn't take on the Gentlemen Prefer Blondes role out of a Monroe obsession, saying, "I don't know who came up with the idea [of casting me], but it was offered a few months ago.  And I was totally onboard because it's one of my favorite musicals." 
In fact, Hilty indicates that there's a significant different between the two roles, adding, "The two roles are very different because in Smash I'm playing Ivy Lynn playing Marilyn, and in this one, I'm playing Lorelei Lee, who was played by Marilyn."
Nonetheless, Hilty isn't too nervous about taking on the iconic stature that Monroe still carries since she has a history of taking over roles from more famous blondes.  She has previously appeared on Broadway in Wicked as Glinda and 9 to 5 as Loralee, which are largely known for the portrayals of Kristin Chenoweth and Dolly Parton, respectively.  Hilty shrugs that pressure off and says, "A long time ago, I realized that I'm not going to please everyone."
Still, she does have the odd moment of damning with faint praise.  The curvy Hilty recalls, "I get a lot of comments on my weight. I was sitting with a friend, and some guy came up and said, 'Congratulations on losing all that weight,' I said that I hadn't lost any weight, but he insisted, 'No you're much thinner in person.' I literally said, 'What a strange thing to say to a woman.' This is what you get when you have a normal-sized person on television.  Marilyn had a real woman's body."
Now I could think of a lot of awkward things I would say to Ms. Hilty if I met her, but I can't say that would be one of them. 
Gentlemen Prefer Blondes runs May 9 to 13 and the New York City Center.