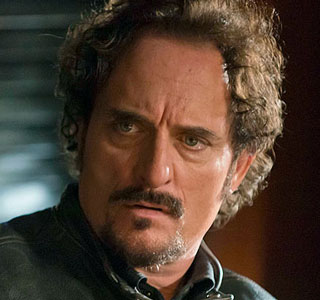 Kim Coates readily admits that he plays similar character types.
"Listen, everybody is typecast," he told The Calgary Herald.  "Every actor is either a leading man or a character actor or a ingénue. You're pretty or you're fat.  I've got blue eyes.  I've got these cheek bones.  I've got a big nose.  Yeah, I'm a tough guy.  But I love to mix it up."
Coates, who plays the quintessential villain Tig Trager on FX's Sons of Anarchy, also talked about his first reaction to his character, saying.  "I read one script, the first one, and I said, 'You know Kurt [Sutter, the creator of the show], I have no interest in playing a sociopath.  I just don't and I won't.' And he said, 'But Kim, this is why we want you.  Trust me, you are going to have a heart.  You're going to be funny.  You're going to be sexy.  Yeah, you'll be tough as nails.  But it's metaphorically based on Hamlet.  You have Shakespeare in your background.  You're a phenomenal actor.  Just come along for the ride…'"
Five seasons later, Coates is still showing that maybe not all typecasting is bad.
The actor can also be seen in two new films, Rufus and Ferocious, both of which just premiered at the Calgary International Film Festival.