Kerry Washington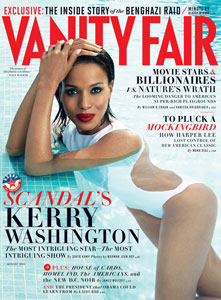 had some pretty important roles in her career, including starring as Olivia Pope in ABC's runaway hit, Scandal.
"I have to learn things to be her all the time," the actress admitted in an interview with Vanity Fair.  She's done preparation for the role by reading Jeffrey Toobin's The Nine and talking with her character's inspiration, Judy Smith, who's a real DC crisis-management expert.
But an even more significant role came about when Washington received actor training as a teen safe-sex advocate.  She toured with an educational troupe performing self-written sex-ed sketches at community centers and schools.  "We would stay in character after the show, and the audience would interact with us," Washington recalled.  "It taught me the importance of really understanding everything about who you're playing, because you never knew what question was going to come."
Washington appears on the August cover of Vanity Fair.