If you've seen one episode of The Office, you know that light-hearted, fun-loving paper salesman Jim Halpert (played by John Krasinski) would never hurt a fly, unless that fly was named Dwight Schrute. As Moviefone notes, though, Krasinski portrayed a possibly-murderous high school basketball player on a 2004 episode of Law & Order: Criminal Intent before he hit it big as everybody's favorite card stock vendor.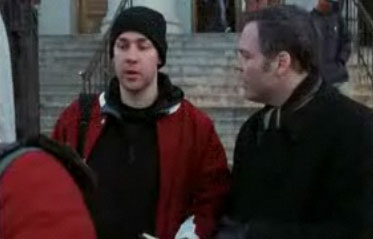 Since Krasinski is now so inextricably linked to his Office character, it's hard to believe the guy who married his sweetheart at Niagara Falls as a morally-questionable hoopster. In a clip from the episode, available after the jump, Krasinski's character starts a fight with a teammate after lying to police during a questioning.
However, Krasinski isn't the only actor to make a cameo as someone completely opposite from the roles that made them famous — in fact, the TV landscape is littered with them. To keep this Office-related, remember Amy Adams as Halpert's love interest in the show's early days? Or Breaking Bad star Bryan Cranston as a dentist on Seinfeld before his Malcolm in the Middle run?