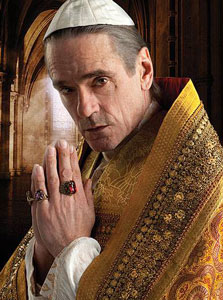 Actor Jeremy Irons is currently starring in Showtime's drama The Borgias as Pope Alexander VI and in an interview with The Los Angeles Times, spoke about his foray into television and his Max's acting career.
He said, "I don't prefer television, but it does allow you to work in a certain way that film sometimes doesn't because film only has 1 ½ to 2 hours to tell a story.  And quite honestly, we could be making film with The Borgias.  The process is exactly the same, the standards are exactly the same, if not higher in some cases.  What I prefer is to work on a character who interests me and a story that is a good story with good backup, and that could be in theater, it could be film, it could be television.  The medium in a way doesn't matter."
Although Irons is quick to admit that the entertainment business is a tough one, he said, "I've always believed that in the theater or movies, whatever, the audience's enjoyment is increased if the actors seem to be enjoying what they're doing."
His son, Max, is also an actor, and Irons has been vocal about the severity of the industry.  He said, "I think it's a problem.  I was lucky enough to have my first 10 years as an actor working theater, where I could learn and grow and practice and fail and it did not matter too much.  I think when you're starting out and it's very public—he's now on his third film—in order to grow as an actor, you need to allow yourself the permission to fail.  And you can do that in theater and you can risk in a certain way which will make you grow, if you allow yourself that permission.  When you're working in a movie that has a big budget, an awful lot of people are very keen you shouldn't fail, so it's a much harder route."
The Borgias airs on Showtime, Sundays at 10 PM.