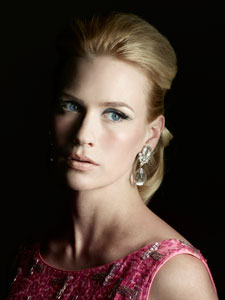 Betty Draper isn't often in the discussion when the topic turns to "favorite Mad Men character," but actress January Jones makes a pretty good case for why her character appears to be so cold-hearted on AMC's hit period drama, which returns for it fifth season this Sunday, March 25.
"I find myself defending her a lot more often, just because people are pretty hard on her lately," the 34-year-old said in a recent interview. "All of her actions are justified. Her husband's cheating on her, and then she finds out that he's not who he says he is. That probably warrants a divorce."
Viewers did witness Betty's ex-husband, advertising executive and series protagonist Don Draper, stray from his marital vows multiple times throughout the '60s drama's first four seasons, but what about that episode where she slaps her 12-year-old daughter?
"Sally shouldn't be masturbating at other people's houses," Jones said before admitting it was difficult to film that particular scene. "I'd rather slap than be slapped, but it's one thing to do it to a grown woman and another thing to do it to a child."
The new mom, who gave birth to son Xander last fall, also praised series creator Matthew Weiner for how he worked around her real-life pregnancy during the filming of season five. "I called him and said, 'I'm pregnant, so by the time that we start shooting, I'm going to be really pregnant, so, you know, have fun with that,'" recalled Jones. "He just was silent for a little bit, but I think he works really well with a challenge, because I love what he decided to do."