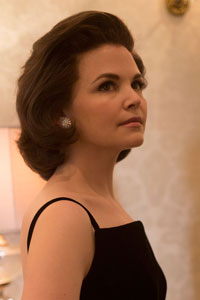 Ginnifer Goodwin took on the task of playing one of the most iconic figures in modern history, Jacqueline Kennedy. Even though she was game to undertake the role, it was one she knew she had to get right from the first day on set for the National Geographic TV movie, Killing Kennedy.
The 35-year-old actress talked to HuffPost TV about the pressure she felt going into the project.
She said, "In the beginning, immense…I admired her greatly, but I saw her for the person she was post-assassination. I felt a great relief in pressure in realizing that I wanted to play the side of her that nobody really knew. I based my version of Jackie on what she'd written about herself. I didn't have to live up to as much."
The tele-picture follows the Kennedy couple and the Oswalds on the days preceding the president's assassination and his subsequent death.
Depicting a real-life person is hard, but Goodwin also plays an iconic fictional character as Snow White in Once Upon A Time. The ABC star compared the two portrayals.
"There's pros and cons. Each is harder than the other in different ways. What's interesting to me is I'm almost always cast as a character based on source material. To play such an American icon and at the same time be one of fairy tales' biggest characters is not shocking to me at this point," she said. "I like that I don't have to rely on just my imagination. It also pushes me further because I have to try to understand something that's so defined already."
Goodwin continued, "If I have to compare the two, Jackie is harder, because there's so much about her that's recognizable. Specifically physically, vocally, things like that. Trying to inhabit her was very difficult. I wanted the audience to find me believable and relatable. In that way, it was hard. But sometimes playing Snow is harder, because it's like the ultimate fan fiction. I have to make sure that I keep Snow true to Snow while we're taking the story so far."
While hair, makeup and wardrobe can transform any actor, nailing down Jackie's distinct accent proved to be difficult.
"I found the voice to be very difficult. We don't have much of her speaking in private. Whenever she's being interviewed on camera, she spoke in a very, very specific way. I'm not convinced that that's how she spoke in private with her husband," Goodwin revealed. "So that's not how I spoke in private with Rob [Lowe]. I tried to incorporate her vocal stylings, taking into consideration the time, her time at boarding school, and her being incredibly nervous on camera. Also, I had to remember that she was a massive chain-smoker, which I am not."
Killing Kennedy aired on Sunday, Nov. 10 on National Geographic Channel. Check local listings for repeat airings.