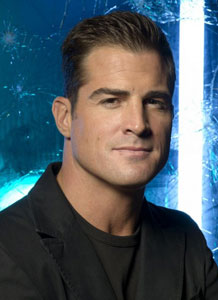 Things don't always go smoothly on set even after years of being on a series. That's exactly what happened to CSI: Crime Scene Investigation star George Eads.
The actor, who has been on the series since its debut in 2000, will be taking a leave of absence from the long-running series. He will appear in the first three episodes of the season and then will return at a later time that has yet to be determined.
A rep for CBS TV Studios told The Hollywood Reporter, "George Eads will not appear in several episodes during the first half of the season. We look forward to him returning to CSI very soon."
This time-out from the show is a result of Eads getting into an argument with an eight-months-pregnant co-writer of a recent episode. The 46-year-old actor was creatively unhappy with the way his character was written.
News of the altercation got back to showrunner Carol Mendelsohn who scheduled a meeting with the TV star. During their discussion, he threatened to quit the show. That's apparently how the leave of absence came about, Eads needs some time to cool off.
His absence will be addressed in the fourth episode. According to a source for THR, his character, Nick Stokes, will be handpicked by Catherine (played by the returning Marg Helgenberger) for a special assignment for training at Quantico.
This isn't the first run-in he's had with the CBS hit show. In 2004, he and co-star Jorja Fox were fired in a salary dispute with the network. They rehired shortly thereafter.
Reps for Eads had no comment for THR.
The 14th season of CSI returns on Sept. 25.