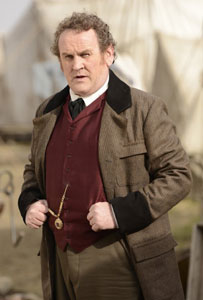 Colm Meaney knew he wanted to be a part of AMC's Hell on Wheels from the very beginning.
"I'd heard about the pilot," he told The Bulletin. "Everybody in town heard this was a great pilot.  Then my agents and manager got it to me, and I loved it from the get-go.  I loved it from the audience perspective, reading the script I took such great pleasure out of it and I loved the character.  I don't think I've ever seen a character as well-written as this.  Certainly in the last 10 or 15 years I haven't seen writing that has such a depth and such a clarity, and the vocabulary!
"To have this vocabulary where you use words like, 'There will be perfidy of epic proportions!'  That's Shakespearean, that's beautiful.  What struck me about it, it reminded me of films like Treasure of the Sierra Madre when films were dialogue-intensive, when actors gave performances and they moved at a clip, apace—Walter Brennan, Walter Huston, those kind of guys.  Rat-a-tat-tat like that.  That's what this reminded me of.  I thought this was magic; I wanted to do this desperately."
The Irish actor gained fame playing Chief O'Brien on Star Trek: Deep Space Nine and The Next Generation, but his career started out in theater.  "I was working in the theater in New York," he said.  "I began to understand that unlike London where you have film, television, theater—everything is centered in London.  Whereas in the US, if you wanted to work in film and television—especially in the '80s—you had to come to Los Angeles."
Meaney knew he needed to break into the film industry.  "You can work 52 weeks a year in the theater and still not make a living—so I had a young daughter, a family to support, this is why I came out here.  I loved being here…I wasn't suffering any hardship, but it was a difficult time."
So the struggles have even more significance now that Meaney has been offered such a plum role as that of Doc Durant on Hell on Wheels.  "The thing about playing villains is you get to play extremes, and to make those extremes believable is an acting challenge, in a way," the 59-year-old said. "This guy can go from anger, rage, to a kind of cunning—'Oh, I should've done that.'  It's the great flips that they do, which I suppose would be called bipolar or manic depressive in other situations.  As an actor you have to be very dexterous in the way you go from the rage to the contemplative very quickly.  And I love those challenges."
Hell on Wheels airs on AMC, Sundays at 9 p.m.