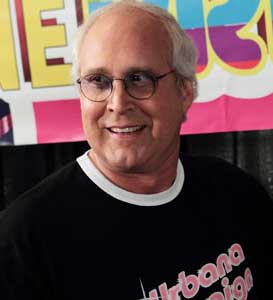 Although Community is one of NBC's few critical darlings these days, a common complaint with the Thursday night comedy about a group of community college students is that the show has left the simple universe it initially created for a zany world where plausibility isn't a concern. As he recently told the Huffington Post, even star Chevy Chase isn't a fan of how Community has evolved.
"I have creative issues with this show. I always have," the comedy legend said in a recent interview. "I think, if you know me and my humor over the years, you know that this is certainly not my kind of thing. I probably won't be around that much longer, frankly."
The actor's comments came after a spat with series creator Dan Harmon, who gave Chase an unfriendly roast at the show's third season wrap party and later played an angry voicemail from Chase to a crowd at a recent onstage appearance. The show began as a humorous chronicle of the everyday lives of a college study group but has since become a place where paintball fights and turning into zombies are just another school day.
Chase used leading man Joel McHale's ex-lawyer/slacker student character as an example of where he thinks the show has gone wrong. "To give him a long speech about the world at the end of every episode is so reminiscent. It's like being relegated to hell and watching "Howdy Doody" for the rest of your life. It's not particularly necessary, but that's the way they do these things.
It's not only Community that Chase has a bone to pick with, apparently. Based on the interview, he doesn't seem to be too keen on sitcoms as a whole. "I come from a much freer kind of performance thing, where I rely on my own improv and my own sense of humor. I would like to see every actor mine that vein and get in there and just go," he explained. "This is the only time I've ever had to act every week in the same clothes and as the same character, and I don't find it particularly enlightening. It's not teaching anybody anything."