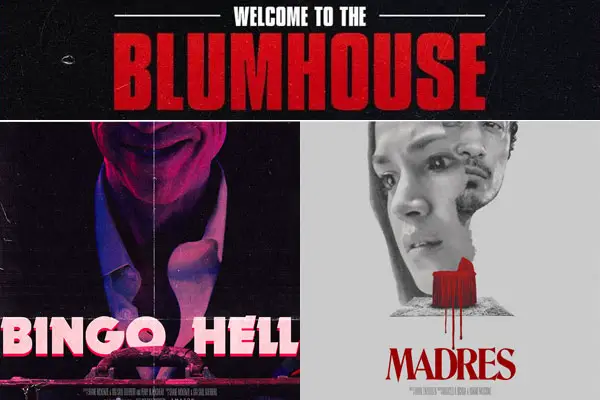 "I just tell people, just be really, really good. They won't be able to ignore you. They will keep calling you in." – Bertila Damas
To say that Amazon's latest batch of films from the Welcome to the Blumhouse anthology series has some incredibly talented women both in front and behind the camera is an understatement.
Marcella Ochoa wrote the screenplay and Evelyn Gonzales stars in Madres, about a young Mexican-American couple in the 70's who move to a small town after finding out they are expecting their first child. But when they begin to find odd things around their new surroundings, truth becomes stranger than fiction.
Gigi Saul Guerrero, who's also an actor, co-wrote and directed Bingo Hell, which stars Bertila Damas as a hairdresser in a neighborhood that's obsessed with bingo. When the local bingo hall has been taken over by a mysterious businessman, 60-something Lupita (Adriana Barraza) and her elderly friends fight back, until they realize that there can only be one winner in this game.
In this interview, Marcella Ochoa and Evelyn Gonzales from Madres and Gigi Saul Guerrero and Bertila Damas from Bingo Hell chat about their projects, acting, bad auditions and breaking into the industry as a Latina.
For the full interview, check out the video below or on YouTube. These are edited excerpts from that conversation.
Marcella and Gigi, what came first, the ideas for the screenplay or the opportunity to write for this Blumhouse project?
Marcella Ochoa (Madres): For me it was the idea that came first. I'm Mexican American and I love horror and we never get to see ourselves really in film or TV and especially in horror movies. So, it was everything that I want to write. I want to represent my community and I want to represent stories that we don't really get to see ourselves. So that was important for me.
So, the idea came first and I think this just a great lens to tell these social justice stories. I wanted to do it on this migrant farming community. That's really important to me because my grandparents were migrant farm workers and when I found out what was going on, these injustices that was happening to them in the seventies in California, it just lended itself to a horror story because horror was what really was going on with them.
So, the script and idea came first and then I sold it to Blumhouse and Amazon, which I'm so grateful. They were like, 'yes' this needs to be included in Welcome to the Blumhouse. They got immediately that the story was so important and that representation is so important.
Gigi Saul Guerrero (Bingo Hell): This is my second feature with Blumhouse, my feature debut was Culture Shock, which was a Hulu original, and it did really, really well. And Blumhouse was like, "All right, what do you got next?" I'm like, "Well, I just happen to have the wildest idea with old people."
It's very much  inspired by [co-writer Shane McKenzie's] mother-in-law, who's obsessed at bingo in Texas at the community center there. And very much an honorable portrayal of my grandma, who is also very much obsessed with Loteria, which is the Mexican bingo.
So, we were talking, Shane and I, and we basically said, "Well, how terrifying would it be if we feel bingo away from these seniors?" We're like, "Well, that's only going to equal to grandma with a shotgun." So Blumhouse and Amazon loved this. I'm so excited that they took this risk.
It's been a long time since, maybe the seventies, with Batteries Not Included or Cocoon, where we have seen seniors be the leads and the heroes of the story. And it's exciting that Adriana Barraza was able to portray the new Abuela for horror fans. I think we all need that. It's exciting that we could create this new character.
Evelyn and Bertila, can you guys talk about your characters and how you fit into the general story?
Evelyn Gonzales (Madres): Yes, my character was basically the catalyst for the lead Diana (Ariana Guerra) and helping her figure out the mystery. It ends up with a supernatural element and the Mexican culture, which kind of just takes the audience on this journey of trying to figure out what is really plaguing this town. And what ends up happening is just a huge, you know, left turn for the audience that brings it all together because it's a real horror. And that's, I think, what's the most impactful about this film is that you walk out really learning something just terrible, that actually happened in real life.
And I think that in horror, we're always thinking about monsters doing these horrible things to humans, but really the real monsters in this world are what humans do to humans. And that is definitely portrayed in Madres.
Bertila Damas (Bingo Hell): Yolanda is part of the neighborhood, she's the neighborhood hairdresser.
Yolanda is part of this wonderful neighborhood and in fact, they they're so supportive of each other, that part of the thing in the bingo hall was they try to raise money for Yolanda to bring her family back to Oak Springs because she wants to help her mom who's sick and her sister and so they raised money for her. So, that's the kind of neighborhood that Yolanda lives in and she's got the beauty salon, so all the women are coming in.
She's a little more naive, a little less a little less aggressive than the Abuelas, so she comes into her own when she finally wakes up from the zombie-like state that Mr. Big has put her in and beat the monster up and gets to curse.
Gigi Saul Guerrero (Bingo Hell): I really don't think Bertila was acting in the end of the film. I really do think the beat down and the swearing came very naturally and she's amazing in the film.
Bertila Damas (Bingo Hell): I'm very method.
We've worked together before and I adore her and I'm so proud. And I just want to say how proud I am of all these women. I mean, this is really extraordinary because I've been around a little longer than they have. And this is really wonderful to see a female Latina director, writer, actors just, you know, really growing the industry and beginning to show that as a Latinos or Latin X or whatever you want to call it, that we're a group to be to be dealt with and that representation is important, but we're already here. We're big. And there's no need for us to be victims. Our stories we'll be told, are going to be told and they're going to be hits, it's just without a doubt.
Your background is fascinating to me. You've studied with like some of the greats, like Lee Strasberg and Stella Adler and you've been working like for years. If you had any advice for actors, what would that be?
Bertila Damas (Bingo Hell): Be excellent at your job so they can't ignore you and they must keep calling you back into that room.
When I started, it was very different than what's happening right now. There was almost no way I was going to get any job. Seriously. Certainly not on television or in films. There was nothing written for Hispanic women, it was very little.
And in fact, I had to actually move into Spanish television and work at Telemundo so that I could get on camera practice. And hey, I'm somebody who was on Broadway, but there wasn't any break for me, really. It was difficult. You would do a wonderful audition and then somebody would turn around and go, "Oh, are you Hispanic?" You know what I mean? It was like so derogatory.
So, I realized that I'm going to have to go to my people so that I can learn camera work. And so I did telenovela work in Puerto Rico for Telemundo so that I got the practice.
So, what I have to say is just keep at it. It's just such a different world now, and I'm so happy for it. I mean, I get to play like Melissa Fumero's  mom on Brooklyn Nine-Nine, she's the lead actress. I think I'm like every Puerto Rican and Cuban girl mom. So, you know, maybe I don't get to play those leads, but I'm so happy they're there for the women that are coming up behind me. It's been an interesting journey.
So, I just tell people, just be really, really good. They won't be able to ignore you. They will keep calling you in. And that's all I have to say.
Evelyn you're from San Diego. Were you able to channel any rage or anger from dealing with the traffic driving to LA into your role?
Evelyn Gonzales (Madres): Yes! That last scene when you see it, that was me actually just yelling from the rage of traffic of going back home to LA.
I feel like I just did a ton of research. I literally watched so many documentaries. I'm not a mother myself. I haven't, I'm a dog mom. To me, my dog is my everything, he's literally my son. I felt that motherly intuition with using substitution with my dog, to be honest.
And doing a lot of research and really seeing these women's real stories dealing with the horrors that were happening in the 1960s, early 1970s. And just seeing how their lives just became tragedies overnight by one person's decision that just dictated that their entire lives. It was super impactful for me and just putting myself in those shoes was terrifying and I feel like my body, as an actress, you actually go through it too. So I feel like my body went through it. And I remember going back to the hotel after all my tough scenes and just crying and not understanding why I was crying or like why I was feeling horrible. And then I was like, "Oh yeah, well you just had a really tough emotional day today."
For all of you, what's been your worst audition?
Bertila Damas (Bingo Hell): I've actually booked jobs on some of my worst auditions. In fact, a lot of actors, we believe like the worst you do the better off you're going to be.
I had a funny audition though. I did this movie a long time ago, kind of a cult film called Nothing but Trouble. I was just new to LA and I'm in the room with Dan Aykroyd, Chevy Chase, Bob Wise, Marion Dougherty, who was like the emperor of all casting directors.
And I start reading with Taylor Negron, who I played his sister in this movie and in the middle of this, Chevy Chase starts rolling up his pants and doing this gibberish. And I stopped and I said, "Just stop. Stop, stop. They say, "Your Chevy Chase and I'm not," this is like a really important audition to me. What are you doing?" I was like so upset at him. So he actually stood up, turned to Dan Aykroyd and said, "I'm, I'm out of here now. I'm done." And he left the room. And we continued the audition. When he left the room, I said, "Well, thank goodness, because now I can do my work."
And then when I finished the audition, they laughed a lot. And Dan and Mary said, "Can you wait?" I said, "Sure, I can wait." And I waited.
After they saw another like, 30 women and I waited for the four hours. I came in in and they said, "We can't tell you anything, but it's really, really good." And I did book that movie.
Evelyn Gonzales (Madres): Well, my story wasn't that amazing. My first audition was actually a really bad audition. It was when I first moved to LA and you know, you get those like, terrible auditions that you know, are like indie and it's probably never gonna come out type of auditions.
And I just remember, I was so scared cause it was my first audition. I like practiced and I thought that I had it. And then I remember when I got in the room, my body just went in shock. I had no control over it. I literally was physically shaking. My cheeks were shaking so bad and the people were like, "Is she going to have a panic attack?" Like it was bad. It was awful.
Gigi Saul Guerrero (Bingo Hell): I too had a bad audition but I ended up booking the role, which is now all over TV for Swiffer Sweeper. If you see me on commercials with a dog high fiving, that's me.
My dog did not get the call back. I auditioned with Nacho, he was not good at his audition. And everybody that asked me, "Where's Nacho?" I'm like, "Getting a new agent."
So for the callbacks, I was acting with a stuffed animals because my dog was not an actor. But it was pretty terrible. I had French fries ready for him. I had a little piece of a McDonald's hamburger for him to do his tricks in and he did nothing. He sat there and just completely got fired.