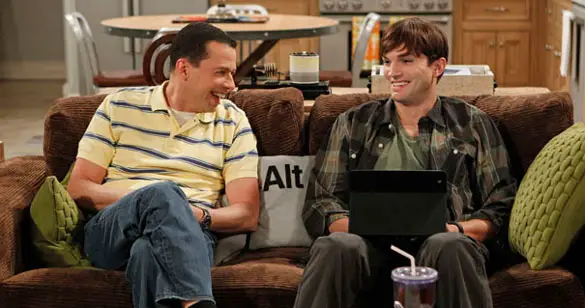 Ashton Kutcher might not be able to open a movie these days (or maybe it was just Jobs) and this year's Two and a Half Men's season premiere might have done less than half of the ratings of last year's season premiere, but based on the Forbes list of highest-paid television actors he's still the highest paid actor on television.  His salary made up a large chunk of the $24 million Forbes estimates he made between June 2012 and June 2013.  The rest comes from his well-known savvy investments that he has made in tech industries.  However, as I previously suggested, that $24 million probably doesn't include much Jobs money.
Kutcher's co-star, Jon Cryer, follows him at #2 with an estimated $21 million, much it syndication money from Two and a Half Men.  The "half" of the sitcom's title, Angus T. Jones, is tied for seventh on the list with Last Man Standing star Tim Allen at $11 million, though it's likely Jones' last year on the list since he is no longer a regular on the show.
Surprisingly, #3 on the list is an actor who no longer has a series: Everybody Loves Raymond star Ray Romano ($16 million).  Like Cryer, Romano made much of his money from syndication, though Romano did a guest stint on Parenthood last year.  NCIS star Mark Harmon and How I Met Your Mother star Neil Patrick Harris tie for fourth place ($15 million each).  Harris of course is always doing projects in addition to his popular sitcom (which is concluding this season), and  Harmon's NCIS remains the highest rated show on television.
Forbes states its criteria for creating the list as: "To compile our list we talked to producers, managers, agents and other in-the-know folks to come up with estimates for how much each actor earned from entertainment-related endeavors between June 2012 and June 2013. We do not subtract for taxes, agent expenses or the other costs of being a celebrity."  I'd love to see what's on the "other costs of being a celebrity" list!
Here's the rest of the list:
6) Patrick Dempsey ($13 million)
7) [Tied] Tim Allen ($11 million)
7) [Tied] Angus T. Jones ($11 million)
9) [Tied] Michael C. Hall ($10 million)
9) [Tied] Charlie Sheen ($10 million)