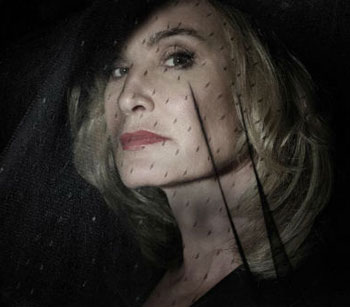 For Jessica Lange fans, brace yourself for the news she recently revealed to the Los Angeles Times, she's ready to retire. Don't worry though, it's a five-year plan for the 64-year-old actress.
She shared how she wants to end her successful career.
Lange said, "I am coming to the end of acting. I have a list: another stage production, maybe one or two more movies, one more season of American Horror Story…and then that is it for me. Because I think that's enough. I want to go out with a bang …or should I say, a scare?"
Her work on FX's American Horror Story has been a wonderful bonus to a career that has been prolific with two Oscar-winning turns in Blue Sky and Tootsie. Even with those Oscars on her mantel, working on  Ryan Murphy's horror anthology has been incredibly rewarding for her.
"It reenergized me; it reenergized my career," said Lange. "There's no shame in recognizing that. It's exposed me to a whole new generation, which is a little strange. I'm not used to young people thinking I'm cool."
Now in her third season with the dark show, the King Kong star explained how Murphy wooed her to the project.
"The power of seduction got me here," she revealed. "He just charmed me. I don't watch TV — I had never seen Glee or Nip/Tuck. I knew of him by reputation. And the truth of the matter is, I just thought, 'Wow, nobody has done that song and dance for me in a long time.' I liked being wanted."
However, Lange might not have had the opportunity to work with the Glee creator had she not accepted the role of Edith Ewing Bouvier in HBO's Grey Gardens in 2009. That role in the critically-acclaimed TV movie brought her back into the spotlight.
She explained, "It brought back the thrill of acting. It was the perfect storm. It's all the tired stuff everybody says — age working against you, films that made your career not being made anymore. But also, I really needed a distraction in my life; I was still getting used to the idea of my kids leaving the nest. I thought it was a good time to go out on a limb because horror is not my thing."
Even though the genre is out of her comfort zone, Lange knows how to go to that dark place as an actress.
"I've never been a sunny personality. I've never been outgoing. I'm a solitary person. So those are areas of the human psyche that I like to explore, probably in a subconscious attempt to understand my own place in the world. It hasn't been easy; it's been my own horror at times," she shared.
The one thing she has to focus on when she is doing a darker role is learning not to take that part of her home to her family.
"I remember when I was doing Frances, I let her get so deep under my skin that it actually felt like a haunting," Lange said. "And when I did Blanche DuBois for the first time, I think my kids were worried about me. The deeper you go, the more they settle in and it's harder to pull away. I used to soak in a hot tub for hours in the dark, just like Blanche."
Viewers can continue to enjoy her work in Season 3 of American Horror Story: Coven on Wednesday nights on FX.