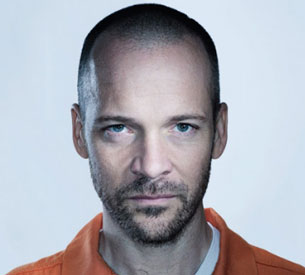 Peter Sarsgaard was initially reluctant to sign onto the third season of AMC's The Killing…mostly because he thought the series had already been cancelled.
"I was in Ireland—my wife [Maggie Gyllenhaal] was doing a film.  I got a call that they were interested in me doing it, and I was like, 'Oh, I didn't think it was on the air,'" he recalled in an interview with The Hollywood Reporter.  "But, obviously, it is.  That was at some point in January.  [Creator] Veena [Sud] and I Skyped.  I wasn't positive that I wanted to be on the show just because I liked it—it's two different things.  It was really the character and the issues surrounding my character that made me want to be on the show.  It's hard to get into it because everyone is into surprise, and you don't want to ruin everyone's birthday."
Ultimately, Sarsgaard's conversations with Sud helped him decide to take on the role of a man on death row.  "It was just very important to me, as an actor, that if I'm playing someone bad, I don't have to play bad," he explained.  "And if I'm playing someone good, that I don't have to play good.  In other words, the good characters don't have to beg for sympathy, and the bad ones don't have to rub your face in s—.  I was very interested in playing someone that seemed like it had potential to be a fully-realized person on some level.  A lot of people ask me, 'Are you a 'baddie'?  It's seriously not like that.  I think in the end, no one will be able to peg which one I am."
The role is a very different one for Sarsgaard, who's best known for his roles in films like An Education and Jarhead.  "I felt like I was asked to do a lot of different dances on the same, very small dance floor," he said.  "Obviously, there are not a lot of scenes of me running down alleyways or climbing down fire escapes or love scenes.  It does get to be challenging, in terms of how to create variety….I felt pretty good about the work that I've done on the show.  I think that because of the focus on the person that I'm playing—the way that the story is divided, whenever it's my section, I feel like I'm the focal point of it.  It's nice for an actor that plays a lot of supporting parts to feel like the camera is always searching for me; the camera wants to know who I am; the camera is curious about me."
Although the part was a challenge, he didn't feel the need to do extensive preparation.
"I try not to think about that kind of thing," he admitted.  "I didn't go and watch a lot of prison movies, or anything like that.  I didn't even do an enormous amount of research.  I've been in prison before for other movies; I've been around prisons; I've known and talked to people who are in prison; but I didn't do any specific research to inform what I was doing.  The one thing that I did watch was Werner Herzog's movie about the justice system, Into the Abyss, which is so great.  But that's it.  I try not to over think things."
The Killing airs on AMC, Sundays at 9 p.m.