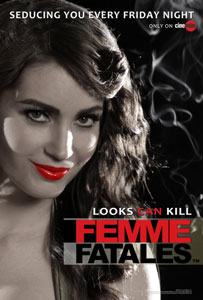 Earlier this week a lawsuit was filed in Los Angeles Superior Court against Time Warner, HBO, Cinemax and the production company True Crime LLC by an actress claiming that she was bullied into appearing nude and performing simulated sex on an episode of the Cinemax series Femme Fatale as well as being sexually harassed and placed in a dangerous work environment.
The plaintiff, identified only as "Anne G," claims that she was not told that the role would require nudity or simulated sexual contact when she auditioned for it and was later hired for it.  While on-set in December 2011, the suit alleges that "she was blindsided with rewrite after rewrite which necessitated her character to simulate sexual intercourse and for her to appear nude but for pasties on her nipples and a sticker on her private parts," and that the set was not closed, as per union rules.  Executive director Steve Kriozere and assistant director Joe Schwartz are also singled out in the suit for saying "inappropriate sexual comments to her."  Ultimately the suit claims that when Anne G refused to do the scene she was threatened with a lawsuit for breach of contract.
The actress appeared in the episode of the anthology series entitled "Jailbreak," which aired this past July.   Femme Fatale is one of the late-night shows on Cinemax's "Max After Dark" softcore programming block that give the network its "Skinemax" nickname.  It's hard to know the truth of the situation without having been there, but True Crime LLC likely has on-set footage that could clarify what really went on.  If any of the actress' claims are true, it must have been a horrifying experience.