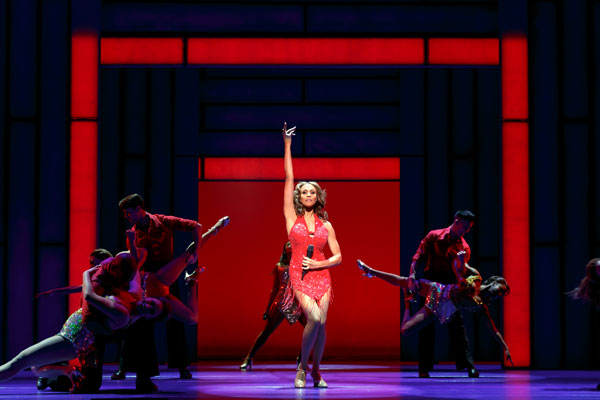 As a showcase for Deborah Cox's amazing voice, The Bodyguard is well worth a visit. The musical, now playing at the Civic Theatre, is chock full of songs by Whitney Houston that Cox belts out brilliantly. Her range tops off at such a stratospheric level, its pure joy watching her work.
But when the singing stops and the story takes over, that's where the trouble begins.
The show follows the same storyline as the film, where Cox stars as pop superstar Rachel Marron, who is dealing with an obsessed fan (Jorge Paniagua). When former Secret Service agent Frank Farmer (Judson Mills) is hired to protect her, the sparks, they come a flyin'.
Adapted for the stage by Alexander Dinelaris, the book is basically one stuttering scene after another moving us along quickly just to get us to the next song. There's no real flow of story and it seems the book was sacrificed in order to cram in all of the music.
Fortunately, Cox is backed up by a terrific cast, notably Mills and Jasmin Richardson as Rachel's sister, Nikki. Richardson has a voice to match Cox and she got some's comedic chops on her as well. Mills is stoic and charming and brings a nice warmth to Farmer, especially in scenes with Rachel's young son, who was played by the talented Kevelin B. Jones III on opening night.
There's also the odd choice with the end of Act 1. There's a (seemingly) natural ending for the act where Farmer bursts into the scene, saves Rachel and picks her up in his arms. It's got that perfect button moment and with the staging, it actually felt like that was where the intermission would begin but then sets started to move, lights came back up and we're into another scene.
The show seems like a perfect fit for a run in Las Vegas. It's got the hit songs, a perfect star in Cox and has some killer set pieces. But as a full-on Broadway style musical, it's lacking in the story department.
The Bodyguard is playing at the San Diego Civic Theatre through Sunday. For more info: Broadway San Diego