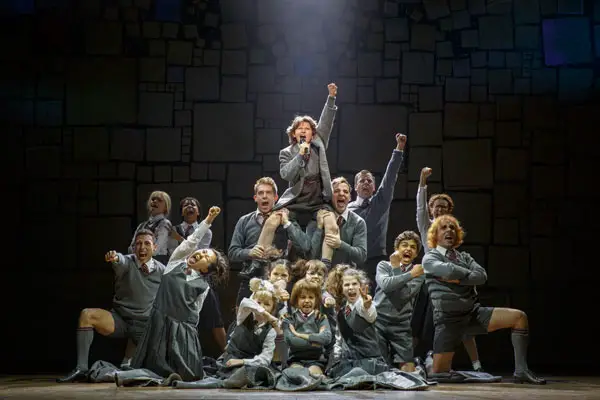 Jenna Weir, one of the three young actresses who rotate in the role of Matilda, deserved the standing ovation she received for her sharp, smart and fun performance. The role is incredibly demanding; she's on-stage for most of the show and carries most every scene she's in. That's no small feat for such a pint-sized performer.
The musical follows Roald Dahl's story of Matilda Wormwood, an English girl with a vivid imagination and a love for books and libraries. She's got a set of low-rent parents (played with brilliant smarminess by Darcy Stewart and Matt Harrington) who treat her like she's nothing but a nuisance and brother (Darren Burkett) who's as dumb as she is smart. When she's sent to school, she meets Miss Honey (angelic Jennifer Bowles) who quickly spots how special Matlida is. But, that means nothing because the headmistress, Miss Trunchbull (Dan Chameroy), becomes instantly suspicious.
The show is as fun and energetic as it is dark and moody. Dahl's tales are very dark but director Matthew Warchus handles things wonderfully. It helps that he's assembled a terrific cast and that's one reason it's such an entertaining show. You can tell how much fun he cast is having, especially the group of kids. They're jumping all over the stage, hurdling themselves on swings and jumping on their school desks. They've got to be having the time of their lives up there and it's almost impossible not to feel that energy in the audience.
Chameroy, dressed in a scary school marms outfit for most of the show, is evil right out of a comic-book. Wide shoulders, high-bunned hair and a glare that sears right through each child on-stage. She's so mean and you know that beneath that dress and make-up, Chameroy is having a ball.
There were a few sound problems and the first act is filled with some songs that don't really move the show forward. But, it's music and lyrics by Tim Minchin…how do you cut his brilliance?
The set is an array of bright, child-like colors that pop and only add to the spectacle.
If you're thinking about bringing your kids to the show, don't worry about the seemingly dark aspects. Walking out of the theatre, all I could hear was sounds of happiness from the four-foot and under crowd.
Matilda: The Musical is currently playing at the San Diego Civic Theatre. For information and tickets: Broadway San Diego