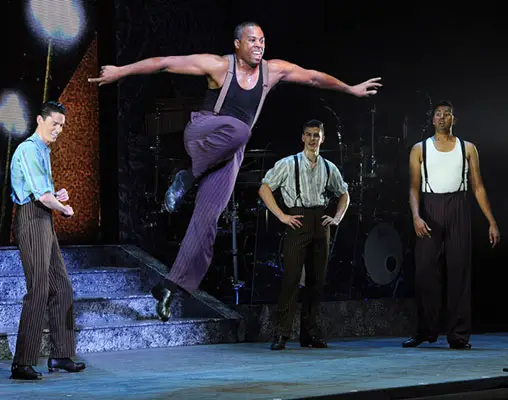 Well, damn if I didn't love Riverdance.
The Irish dance show, currently on its 20th Anniversary World Tour, is a total phenomenon and after watching the show, it's easy to see why it's lasted this long.
The show draws on Irish traditions with its music and songs and the each individual performer is as talented as the next. There were actually times I could have sworn that some of the singers were singing along to a voice track, they were that spot on perfect.
The dancers were masterful and so finely in tune with each other, that it was such a treat to watch and listen to. The clickety-clack of the tap shoes filled the downtown Civic Theatre with an energy I haven't seen there in ages.
The show has two acts and after the first ended, I was actually wondering how they could what they just did. Well, they killed it. It opens with a tap-off (seen in the above picture) between 2 street performers and a handful of traditional Irish dancers. What starts off as a five on the tap scale is escalated to 11. It's spectacular what these guys can do! It'll make you leave the theatre wondering where you can sign up for the next tap dancing class. .
Riverdance – The 20th Anniversary World Tour is composed by Bill Whelan and directed by John McColgan. If you haven't seen the show take a chance and do it now. Take it from me, a long time jaded theatre lover, I promise you'll have a great time.
Riverdance runs through tomorrow at San Diego Civic Theatre. For tickets and more information: Broadway San Diego