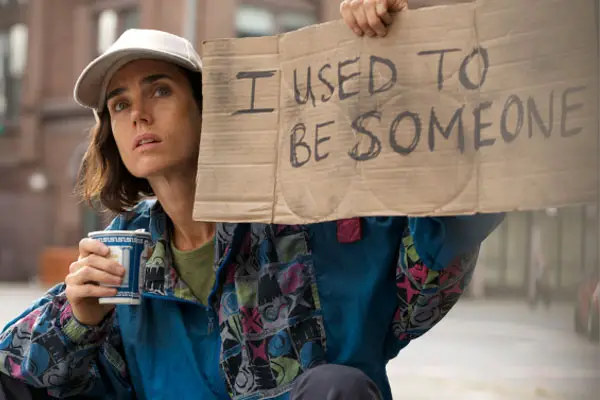 Paul Bettany makes his directorial debut with Shelter, a film that deserves props for performances and tone but is oftentimes inconsistent and uneven.
Jennifer Connelly and Anthony Mackie star as Hannah and Tamir, two homeless people struggling to survive on the streets of New York City. Hannah has been homeless since her husband died and she's now addicted to drugs. Tamir is an illegal immigrant who's a bit more street savvy and is managing to make a few bucks playing the bucket drums as much as he can. Strangers at first, the two meet, eventually for a bond because and fall in love.
They find their way into a swanky apartment that the owners have left unlocked. "Rich people are careless," she says. Once there and comfortable, Hannah decides that she wants to finally stop using. With the help of Tamir, she goes cold turkey.
After a time jump, they are both now living in a shelter and are seemingly on the right path but due to a major medical problem with Tamir, their lives are once again thrown for a loop.
Connelly's Hannah is the one who goes through the most change here. She doesn't know "how to be in the world at all," she says. From a non-trusting junkie to someone who's now clean and caring is a big leap in that short of time but she does it well. She's also got to perform some deplorable things in order to survive and you wonder how this can be happening in one of the greatest cities in America. Mackie's Tamir is a bit more stoic and you wish he'd show a bit more levels. Once we find out why he's this way, we can sympathize but a bit it seems like he's being overly cautious in his deliberate of his personality. And a big hat tip to Kevin Geer as a doorman who offers shelter but for a hideous price.
Bettany's script feels a bit uneven. Why does Hannah all of a sudden want to stop doing drugs? There's never any indication she wants to quit. And the editing feels a bit off and choppy at times, especially with the music sometimes cutting off so quickly after scenes. It's a good effort but ultimately falls short unfortunately.