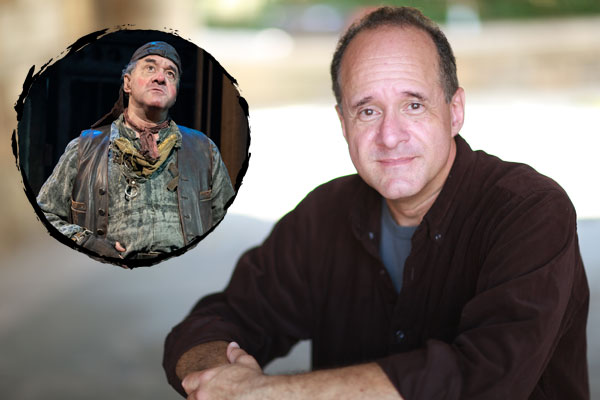 The North American tour of Lincoln Center Theatre's revival of My Fair Lady is flat out terrific from beginning to end. The Lerner and Loewe classic, directed by Bartlett Sher and starring Shereen Ahmed as Eliza, Laird Mackintosh as Professor Henry Higgins and Adam Grupper as Alfred P. Doolittle, has wonderful performances, fantastic sets and will leave you humming songs for days.
Grupper, whose rendition of "Get Me to the Church on Time" is a joyous show-stopper, was the understudy for the Broadway run and he credits the director with helping him make the role hos own. "Bart Sher… has completely re-conceptualized it for a different cast," he told me.

In this interview, Grupper talks about his role as Doolittle, life as an understudy and his worst audition ever. He's also got a great story on jumping into the role of Tevye in Fiddle on the Roof when the star, Danny Burstein, got sick. These are edited excerpts from that conversation. For the full interview, check out the video below or on YouTube.
How's the how's the tour going so far?
Adam Grupper: It's been great. I mean, it's been an interesting transition having been on hiatus for 18 months and then to come back. It's an interesting experience, just having been on hiatus and all of us essentially home and doing whatever we could do and suddenly being on stage in front of audiences.
So, I think we're all kind of taking stock now and kind of surveying the experience of having been on ice for so long and now suddenly being thrust right into the middle of everything.
How long were you on tour before everything got shut down?
Adam Grupper:  We opened in December of 2019 in Washington, DC and we ran through mid-March when we got shut down in Columbus, Ohio. I'll never forget taking the plane back on my birthday, March 16, I was basically the only person on that plane. Everything was, as everybody can remember, everything was really fraught, and nobody knew exactly what was going on. And you know, it was a very, very strange, strange time. But yeah, we've been on hiatus since mid-March of 2020 until we geared up again right after Labor Day of this year.
Were you itching to get back on stage?
Adam Grupper: Well, I was fortunate. I actually had other things that I was able to do. I have a home recording studio and I do audio book narration. So, I dusted off my recording studio and I began doing audio books again. I do corporate training work also, and that all moved through digital to the virtual space. I also did a lot of virtual coaching and I actually ended up booking a fair amount of film and TV work. So, I was more fortunate than most.
What I'll say is that I think a lot of us have sort of ambivalent feelings about returning to theater. I think we're thrilled to be back and doing what we love to do. And we're also realizing that it was not without some casualties and having been in that experience, I think all of us are still feeling a little a little tentative. This collective experience I think was traumatic in its own way as well. So, I think a mixed bag; thrilled to be performing, thrilled to be doing what we do, thrilled to be in front of audiences and also a little love what just happened? And, and how are we moving forward?
You've actually played this role before.
Adam Grupper: Yes, yes. I played it before. Well, first of all, I played it on Broadway, so I was in the Lincoln Center production, and I understudied Norbert Leo Butz and Danny Burstein. And I got to go on a fair amount as Doolittle.
But before that, my theatrical debut in some ways was doing My Fair Lady in a high school production when I was 15 years old. The woman who directed that production, whose name is Jeremy Brown, who is now in her eighties and is still with us, was actually in the original production of My Fair Lady. So much of the staging that we did, she borrowed liberally from the original production of My Fair Lady.
Playing that role was really, I think, a real seminal moment for me. It was the first time that I actually got to play a leading part on the stage in front of people and it had enormous impact on me.
You were the understudy for the role, and you went on several times. Now that you have the role full time, after watching the original actors play it on Broadway, how have you been able to make him your own? I would assume watching what the others did sort of got into your psyche.
Adam Grupper: I've understudied many times and as an understudy, you don't often get the benefit of working directly with the director to get a sense of what the original intentions were. So you do borrow liberally from what you see on stage and also invest in the character what you feel would be appropriate for the character.
But I used to always say when I would go on for Danny Burstein, "Thanks for letting me use this for a while," but always with the understanding that I'd be giving him the car keys back.
The good news is doing the show in this production, Bart Sher, our director, has completely re-conceptualized it for a different cast. He's a very generous and very wise director and understands that there's no benefit to having actors slavish do the exact tracks that other actors have played.
So, we treated it as if it was a new production. We went through the whole process of re-staging it, and it did have to be re-staged because when we get it at Lincoln Center the Vivian Beaumont Theater is an enormous theater and the audience is surrounded on three sides. Now that we're on the road, all the theaters we're performing in our proscenium arch theaters, so everything has flattened out. So it means we have to completely re-stage what we're doing. And even when we returned from our pandemic hiatus, we still came back and revisited it and we re-staged some things.
I really appreciate that Bart Sher really invests in his performers and invests in the people that he hires to do these shows and is trusting of the process enough to let them discover new things and for him to discover new things along the way.
You've worked with the director before, prior to this show. So there must be a level of trust he has in you to keep bringing you back.
Adam Grupper: I'd like to think so. And it's a terrific compliment to be part of the stable of Bart Sher actors. The people that he hires, I've seen because I've worked with so many of them, I know are of tremendous caliber. So I'm gratified to be part of his work.
Doolittle is a little different in this version then what we've probably seen before?
Adam Grupper: I think so. I think that there has been a temptation to kind of envision Doolittle as a lovable drunken lout. And I think that what Bart has done in bringing the show back to its origins to Pygmalion, is to do a little less as a comedic relief character and more as a truth teller. As somebody who represents a sort of transgressive character.
Bart kept referring in rehearsals, the character being like Jack Kerouac, somebody who was fighting against the system. In the case of My Fair Lady, against Edwardian England and in particular, what Doolittle calls "middle-class morality."
So everything that he does, showing up at Henry Higgins parlor…  filthy, smelly, wreaking of alcohol and lecturing him and Pickering, his best friend, on what morality really is all about and who gets to decide what morality is, is a very transgressive defiant act. Which makes it all the more delicious in the second act when we do Get Me to the Church On Time, when he's forced to kind of adopt those very middle-class values that he was deriving in the first act.
You've been an understudy on several Broadway shows. What is the craziest story you have where the stage manager called you and said, "Hey, you're going on tonight!"
Adam Grupper: There's no question the craziest story is when… the very first show I did with Bart Sher was doing Fiddler on the Roof, I understudied Danny Burstein as Tevye. Right after our tech period, we were going into a heavy performance schedule for the holidays which was something like 15 shows in a row. The part of Tevye, for those who don't know, and most people probably do, it's a gargantuan part.
And after that period, we did not have time for any rehearsals, no understudy rehearsals, no put ins. And Danny Burstein got sick, and I had to go on. And fortunately, I had prepared myself for that eventuality because there are horror stories of people having been thrown on in those circumstances. So I didn't want to be one of those people who was a cautionary tale.
I went on, on a Sunday afternoon, for Tevya, fully prepared without anybody having known what I could do. And because I knew what I was doing, I got to be a hero. And that was one of the most extraordinary experiences of my life. I went on to do that part 42 times, but that first time was when I'll never forget,
Wow, man, that's gotta be such a high leaving the theater after that.
Adam Grupper: It really was. It felt like the culmination of everything that I had worked so hard to do, it was incredibly gratifying. And the people in the company were so supportive. I just remember feeling like everything was swirling around me, like I was the eye of the hurricane, just calm and centered in everything around me, swirling around. But it was an extraordinary experience.
What's been your worst audition?
Adam Grupper: Many, many years ago, I auditioned for a revival of Assassins. I was going in for the party for the balladeer and I thought, "I'm going to blow them away." I learned how to play the ballot of booth on the banjo. And I went and I brought in my banjo, I was dressed in overalls, in a depression cap and I sang, "Why did you do it, Johnny?"
And at the end of it, I remember the director looked at me, looked down at my picture and resume, looked back at me and went, "Well, thank you." It was the most humiliating experience. Having put myself out there and having it just kind of fall right on its face.
For more info and tickets, check out Broadway San Diego or the official tour website.