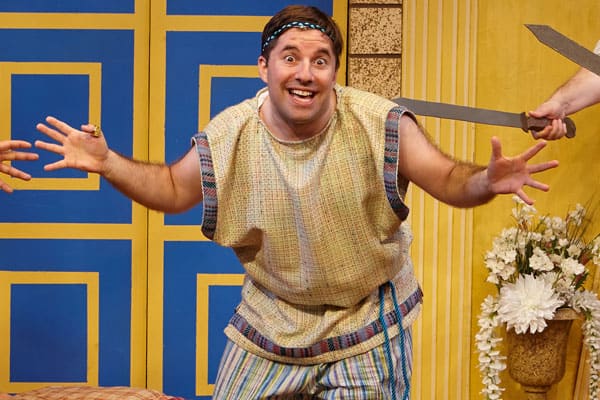 A Funny Thing Happened on the Way to the Forum has audience members leaving North Coast Rep's theatre with huge smiles on their face. the show is hilarious and the cast is full of some of San Diego's best actors, including star, Omri Schein. Directed by North Coast's Artistic Director, David Ellenstein, Schein stars as Pseudolus, the sly and conniving slave who will do or say anything to get his freedom.
In this interview, Schein talks about the show and cast, working in San Diego and one terrible audition.
You've done this role a couple time before?
Omri Schein: Yes, this is the third time doing this role. It's like one of those roles you always want to come back to because it's so fun. You also remember how exhausting it is. But it's progressively gotten better because you know the first time I did it was at community theater when I was in college. The second time I did it was in Summer Stock. The quality of the production keeps getting better every single time I do it. It's just one of those roles that lots of people constantly itch to do.
Doing the same role more than once, do you think back on things you could've done better on previous versions and tackle those things?
Omri Schein: Absolutely, and I think you'll probably agree with me. I think as actors we always grow and we always get better with more shows and more experience. And having done the show before, you can reflect and go 'Oh, I remember that part, and that didn't work so let me try to do something different this time'. Of course you also do the opposite and so you do remember what really worked last time you did it. And you know you refer back to that at times.
It looks like everyone was having a blast. You guys were reacting to the audience, talking back to them.
Omri Schein: Sure, absolutely, it's one of those shows. It could also work against you if you have an audience that's just sitting there going, "This is not funny at all." And then it takes the fun out of doing the show as well.
And you guys are so close to the audience too, if you see some guy scowling, it's gonna throw you off bit.
Omri Schein: Absolutely. We've had five performances so far, and even with the crowds of maybe 150 smiling people, you can always see at least one sleeping face, one grumpy face, and that's fine, that's fine, that's the way it goes.
I did a show at The Old Globe last summer and I would just be amazed, people would just be asleep.
Omri Schein: The most expensive nap ever.
You've got a wonderful cast.  What was working with all of the cast like?
Omri Schein: Oh, it was terrific.  I've worked with Melinda [Gilb] before years ago, this is my first time working with Jason Maddy. Luke Harvey Jacobs, it's the first time I've been in a show with him, which is great. Also, David McBean and I have been friends for quite some time, but we've never actually been on stage together.  I've been friends with quite a few of them for a number of years, but I've never actually been on stage with them, which was an absolute treat.
On a show like Forum, Pseudolus has to anchor the show, but the rest of the cast have to be just as involved and talented or the whole show completely fizzles.
You're also listed as an Assistant Director. What did that sort of mean for you? 
Omri Schein: For example, the show, it's usually done with 21 people I believe. So I had done the show before, and knew the show really well, David asked me to assist him, to try to figure out how to scale the show down to 13 people. So, that was one of the things that I did. I figured out the multiple tracks and what could work and wouldn't work, as far as cast size. It's just tough.
Obviously, if you're in this show a lot its tough to pay attention to what's going on around you, but after every rehearsal, David and I would discuss what the progress was, and what we still needed to fix and how everything's going. But basically I was just someone to throw ideas off of.
How did you end up in San Diego?
Omri Schein: Well, I went to grad school here 12 years ago, and then I met my wife while I was in grad school. She moved back to New York City with me, and then about three and a half years ago we decided to start a family, and we decided we did not want to do that in New York City. My parents live in the middle of nowhere in Wisconsin, and her parents live here in San Diego. I think San Diego's the better option, that's why we moved here.
What would you tell someone who wanted to know how it is to be an actor here in San Diego.
Omri Schein: I think San Diego is a very welcoming theater community. There are a lot of theaters, and they're very close knit, and they're welcoming, and they treat you like family.
What's been your worst audition?
Omri Schein: I'm gonna give you two answers for that. I auditioned for a production, I won't say what theater it was, but it was on the East Coast and I actually got it out of…. I went to a random EPA.  I think myself and my friend were the only two people that were called back from the EPA. I learned the stuff, and I went in there and I had the most… sometimes the accompanist can just ruin everything, and it's not that she didn't play well, she was just an unpleasant, unpleasant person. So I started the song and I was completely on the wrong note, and I just knew it, and I stopped and said 'Sorry, sorry, can I do it again'.
No, so she played the initial for EPA, and then she proceeded, even though it went very well and I got a call back, she proceeded to tell me, in front of the people behind the table, how I sang wrong things in the song.
So, I mean you're supposed to be helping us, not making us look bad. So I go 'thank you' and of course I smiled and thank you for the note. So, that's what threw me off at the call back that she was the same accompanist.
I started the song, three or four times over, and for some reason I could just not get that beginning note, the pitch, and was completely bummed and couldn't get out of there fast enough. My friend booked the show, I did not book the show. However, as someone who… I don't know if you know this but I write musicals too, so I've sat on the other side of the table as well, and I can say most times when we think we have a terrible, horrible, audition, you probably didn't.
Because there was one guy for one of my shows, Gary Goldfarb, he was fantastic, everything about him was fantastic. But I did not have anything in the show for this person. So I'm sitting there going, 'Oh, this person is incredibly talented, I wish there was a role in the show for him but there isn't'. And he's doing very well, but then on his last note, final note of the song, he goes flat. Completely flat.
And you could see it in his eyes, the terror, and you could tell, when he left, he said 'Thank you so much.' You could tell when he left, he just thought that he had the worst audition ever, because of that one flat note at the end, even though 99% of the audition was perfect, and I probably would have called him back for the show if there was a part for him, regardless of that flat note.
So most the times, when we think we have horrible auditions, it's not as bad as we think.
A Funny Thing Happened On The Way To The Forum is currently playing at North Coast Rep. Click here for tickets and more information.