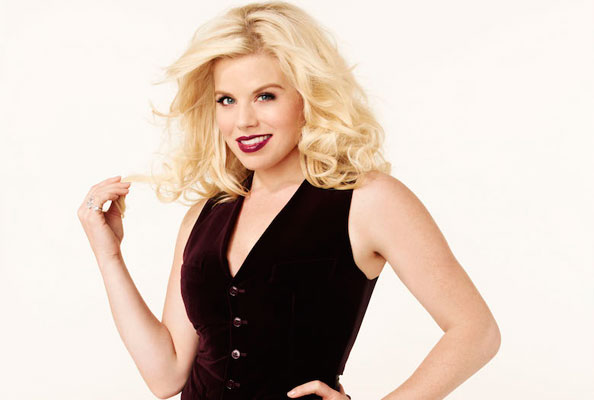 Megan Hilty is one of Broadway's brightest stars, having appeared in several Broadway shows including Wicked and 9 to 5: The Musical. And, she's brought Broadway to our televisions as Ivy in the musical drama series Smash.
For one night only, you'll get the chance to see this star under the stars at Moonlight Stage, Friday, October 2nd at 8pm! Hilty is coming to San Diego to support the Moonlight Cultural Foundation which raises funds for arts education programs for youth and adults.
Megan admits that part of the reason she's coming to the Moonlight is that the foundation benefits speak to her interests.
Megan Hilty: That was all I did growing up and thankfully, I had programs that helped facilitate my passion.  All of those programs are suddenly gone because of lack and funding, so this is something that is near and dear to my heart and something that I will always be there for.
What does she hope that people attending the concert come away with?
Megan Hilty: I think the whole point for a one person show is for the audience to go away thinking they know that person better. So, I try to steer away from too much scripted stuff, even the set list can change based on the audience reacting to certain songs.  I have been known to turn to the band and say 'We're doing this now,' even if it's something that is not on the list.  If it seems like the audience is appreciating more musical theatre or more American songbook standards, or Smash, I'm always pleasantly surprised when people want more of those songs.  I want people to feel like they're in our living rooms.  I don't want them to feel like I have this super polished show where there is kind of a wall up between me and them.  They're going to see me being my wacky self, and my husband and the band chime in whenever they want and call me out when I'm saying something stupid.
Joining Hilty during the concert will be Celeste Butler, a student from the Moonlight Youth Theatre.  Celeste, who last performed in June in Once On This Island for the Moonlight Youth Theatre, will join her in singing "For Good" from Wicked.  It is that kind of collaboration that Megan really wants to impress upon anyone who is interested in theatre.
Megan Hilty: I would advise you do other things in the theatre, instead of being an actor.  So you understand that you are a small piece in the large puzzle that happens to have the spotlight on them.  I would advise to take tickets, clean the theater, build sets, build costumes and understand that you are part of something much bigger.
Hopefully this performance is the start of a lovely relationship between Megan and Moonlight.
Megan Hilty: I don't have a long history with them but I am hoping to create one though, starting when I come out there!
Come out and see Megan and her talented band as they support the Moonlight Cultural Foundation on Friday, October 2nd at 8pm at the Moonlight Amphitheatre .  For ticket and VIP meet and greet experience information please go to www.moonlightfoundaton.com or call 760-724-2110.