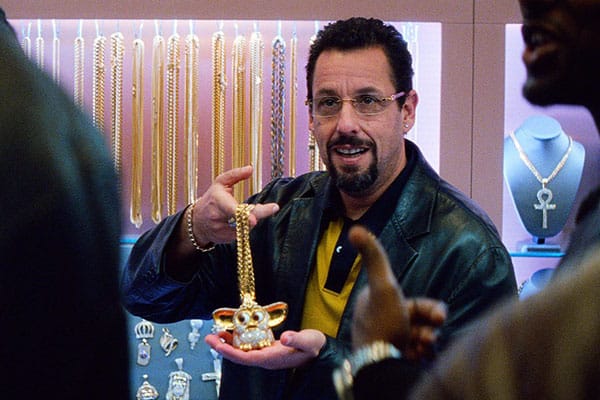 The Safdie Brothers have mastered the art of adrenaline rush filmmaking. Not the kind of adrenaline rush where there's a huge fight scene or car chase kind of rush. It's more like a rush against time or a characters rush against themselves and how they think they can beat the system, like their last film, Good Time that starred Robert Pattinson. Their latest, the gem Uncut Gems, is yet another example of that. And it's one of the best films of the year.
Howard Rattner (Adam Sandler) is a jeweler in New York City's diamond district. He's got a wife (Idina Menzel), kids and a mistress (Julia Fox), so you would think that he's got his hands full. Nope. Howard is always looking to juice things up, always looking for the next big deal, the next big score. And pretty early on in the film he finds it.
Not to give anything away, but from then on, every move that he makes, he's weaving one scam into another. His house of cards is constantly in danger of crashing to the ground and by the end of the film, you're exhausted. You realize that almost every muscle in your body has been tensed just watching everything that's happened.
Sandler is a ball of energy here and it's one of his best roles ever. Howard is kind of a weasel (it helps with the fake teeth that Sandler sports) but people love him because he oozes so much charm. Sandler is a pretty great actor, so don't judge him from films like Grown Ups or The Ridiculous 6. Take a look at Paul Thomas Anderson's Punch Drunk Love or The Meyerowitz Stories. Or even better, this film. Fox, who plays his side piece is equally wonderful. Be on the lookout for her because you'll be seeing a lot of her in the future.
Benny and Josh Safdie make movies that you almost have to experience and this is honestly one of the best movie going experiences you'll have this year.