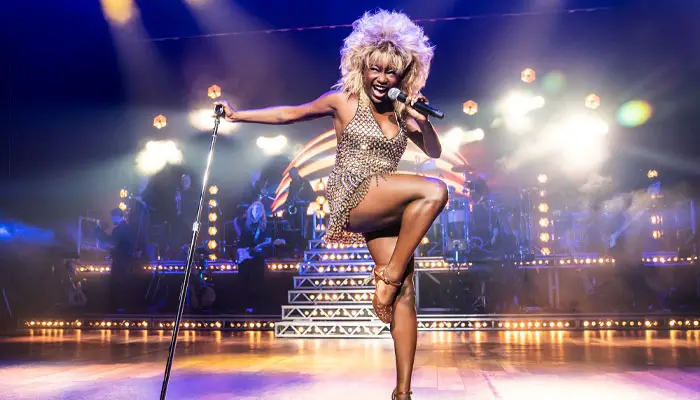 Tina Turner was an icon and a true legend who was blessed with that unmistakable voice that only seemed to get better with age. She also had the ability to take a song and make it her own and, let's not forget, those legs that we're insured for $3.2 million dollars! She was such a one of a kind talent. I couldn't imagine the pure joy and eventually pressure that Naomi Rodgers, who played Turner in the performance that I saw (she splits the role with Zurin Villanueva), felt when she was cast in the role. But, whatever she felt then, I can tell you that she absolutely nails it. Boy, does she ever.
Tina: The Tina Turner Musical, which originally opened on Broadway in 2019, is directed by Tony Award nominee Phyllida Lloyd with a book by Katori Hall, Frank Ketelaar and Kees Prins, tells Turner's rags to riches to rags and finally back to riches story. It opens with her humble beginnings in a Tennessee church as a young Anna May Bullock (an incredibly cute Ayvah Johnson), she hasn't yet changed her name, knocks the socks off the parishioners with her singing. Soon, she's all grown up and has a chance encounter with Ike Turner, played by Garrett Turner. I would imagine there's no relation but wouldn't that be crazy if there was? Ike quickly realizes her talent and invites her to join his band. As they travel the country, she soon starts to outshine her now husband and if you know anything about her story, you know that their marriage was not a bed of roses. Thankfully, after 16 years of marriage, she finally leaves him. If Act One was her rise, Act Two is all about her fall and how she managed to get back to the top of the charts.
The opening of the show is a bit lackluster. You'd think there would be a big, splashy number, something to start the show off with a bang. But the story quickly falls into place once she meets Ike Turner. The book is a little thin at times but the cast, which also includes Roz White (Zelma Bullock), Ann Nesby (Gran Georgeanna), Lael Van Keuren (Rhonda), Max Falls (Erwin Bach) and Zachary Freier-Harrison (Roger Davies), helps a great deal.
You'll definitely remember most of the songs, especially the later ones like "Let's Stay Together," "Private Dancer," and "(Simply) The Best" when Turner was at her peak. And most of the songs actually get better (if that's possible) because of Tony Award nominee Anthony van Laas terrific choreography.
But let's get back to Rodgers for a moment because I can't stop thinking so many good things about her performance, especially in Act 2 when she's the Turner I most remember. She's got the voice, the moves and attitude down perfectly. And if you didn't think so, at the end of the show and the mini-concert she gives as Turner, your mind will absolutely change.
MORE: The ensemble includes Daelyanna Kelly Benson, Antonio Beverly, Karen Burthwright, Aliyah Caldwell, Brianna Cameron, Lillian Charles, Max Falls, Zachary Freier-Harrison, Reyna Guerra, Gordia Hayes, Andre Hinds, Takia Hopson, Ayvah Johnson, Geoffrey Kidwell, Parris Monet Lewis, Gerard M. Williams, Nia Nelson-Williams, Gracie Phillips, Nicole Powell, Terance Reddick, Shari Washington Rhone, Jacob Roberts-Miller, Chris Stevens, Kristopher Stanley Ward, and Jeff Sullivan.
Tina: The Tina Turner Musical is currently playing at the San Diego Civic Theatre. For more info and tickets: Broadway San Diego