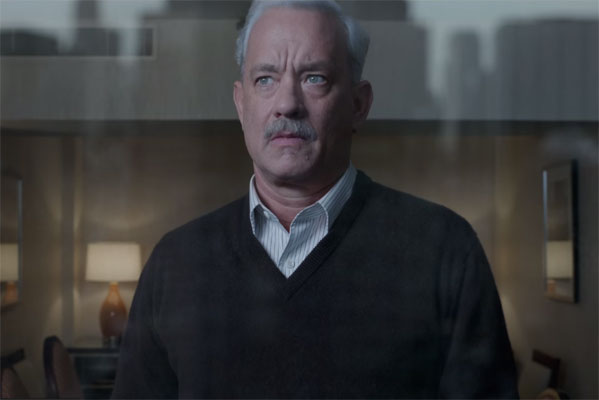 Even with a handful of flaws, Clint Eastwood's Sully is terrific and it's one of his best films in years. And Tom Hanks has never been better in this retelling of the famous USAir flight that ended up in the Hudson River.
The film recounts the events and aftermath of January 15, 2009, when Capt. Chesley "Sully" Sullenberger (Hanks) and First Officer Jeff Skiles (Aaron Eckhart) make an emergency landing in New York's Hudson River after the plane's engines get struck by a flock of geese (RIP geese). Sullenberger used his years of experience and knowledge of the aircraft to save all 155 passengers and crew in what was quickly dubbed, 'The Miracle on the Hudson.' Sullenberger quickly became a national hero but what most didn't know, and the film depicts, is that both he and Skiles faced an investigation into his actions of landing the plane.
Hanks' understated and stoic performance is the foundation for the brisk 96-minute film. Even when questioning himself – did he do the right thing by landing the plane in the river? – Hanks never loses that air of confidence a guy with that much experience has. He's aided here by Eckhart who easily has his best role in years.
There is also some fantastic CGI scenes of the plane flying through the city and crashing into the water. During some of those moments, you can actually feel your heart start to race.
The only real faults are with occasional cheesy dialogue. "No one dies today!" an EMT workers tells a passenger. There's also a scene where NYC Harbor Rescue workers razz each other on how the Yankees are going to do the upcoming season. Another problem is that in the middle of the film, the filmmakers suddenly have scenes with a handful of passengers as they are about to board the flight. It feels shoehorned into the film and each character is a full-on characterization. Why, after half of the film has taken place with grounded performances from Hanks and Eckhart are we subjected to these characters that are from a Hallmark TV film?
The film has some of the best shots of New York City you'll ever see. It's filmed in beautiful, vibrant colors and it's a true love letter to the city. After watching, you'll want to book a flight. Hopefully, Captain Sullenberger is piloting this one too.