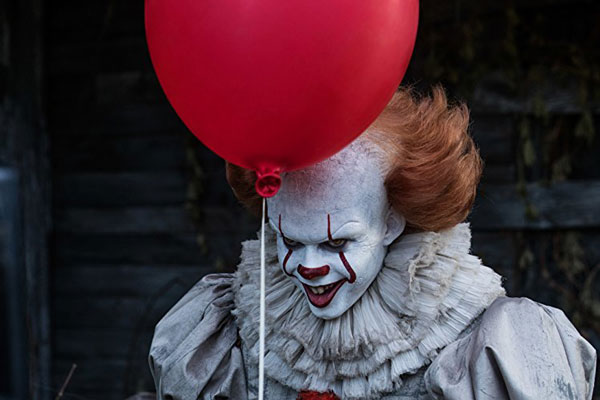 There was a recent article in The Huffington Post that stated that the World Clown Association was upset about It, the new film based on Stephen King's classic novel. Their argument was that the movie is costing 'good clowns' jobs. I actually agree with their stance because after seeing the film, I can honestly say I'll never look at a clown the same. Because Pennywise is creepy as f***.
The story opens up with a sweet young boy chasing a paper boat down the street right after a storm. When it gets sucked up by a sewer drain, he rushes to try and grab it only to see the sinister looking Pennywise (Bill Skarsgard), clown from hell, staring back at him.
It's a jump-worthy moment. And one of many that's about to come in the next 2 hours and change.
Set in the 80's in a small town in, where else, King's beloved Maine, Pennywise has reemerged after 27 years of slumber to stalk and prey on the town's children and it's up to seven outcast kids to take him down.
The film isn't a game-changer but what makes it so appealing is the talented cast of young actors (Stranger Things' Finn Wolfhard, Jeremy Ray Taylor, Jack Dylan Grazer, Sophia Lillis, Wyatt Oleff, Jaeden Lieberher, Chosen Jacobs) and a script by Chase Palmer, Cary Fukunaga and Gary Dauberman, that's full of fun and funny dialogue.
Each actor brings a distinct personality to their role. They're not some cookie-cutter horror-trope caricature.  You really like them! They're real kids living in the 1980's; they play video games, riding bikes is the main mode of transportation and make fun of each other. They deal with bullies and now, have to deal with a killer clown. Life never gets easy, does it?
Director Andy Muschietti brings originality to an aging story and when it's over, we're already salivating for the second chapter.