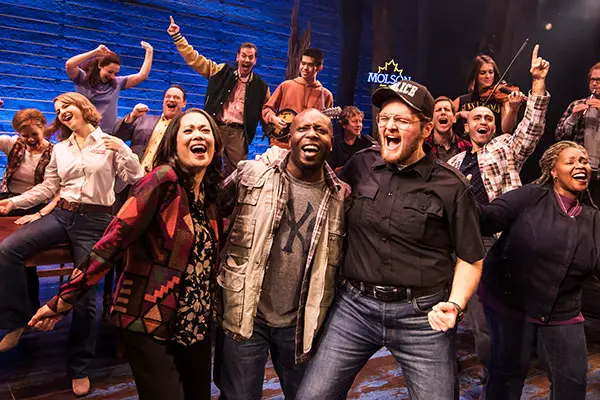 Come From Away had its World Premiere at the La Jolla Playhouse back in 2015, I never had an opportunity to see it. Everyone I know who's seen the show absolutely loves it and until last night, I never knew why.
But now I do. It's absolutely wonderful.
The musical tells the true story of a small town in Newfoundland that opened its arms (and hearts) to over 7,000 stranded airline passengers right after the devastation of the September 11th attacks on America. The community rallies together to house, feed and support each and every one of those passengers who, at the time, had no idea when they would be allowed to fly back home.
All twelve actors in the company play multiple roles and they do it effortlessly… and brilliantly, I should add. With the removal of a hat, or a slight change in posture, the actors bring to life the entire town and those passengers in such vivid detail. It;s a real joy to watch.
Written by Tony nominees Irene Sankoff and David Hein and directed by Tony-winner Christopher Ashley, the show is a fast-paced emotional ride from start to finish. Not unlike those first few days after 9/11. But that doesn't mean the show is without humor either because there are some incredibly funny moments throughout, especially from James Earl Jones II and Danielle K. Thomas.
Even though the circumstances surrounding the events are tragic, the show manages to be uplifting and full of hope. Imagine what our world would be like if more of us could be like the residents of Gander, Newfoundland.
Come From Away is currently playing at the San Diego Civic Theatre through May 22nd. For more info: Broadway San Diego