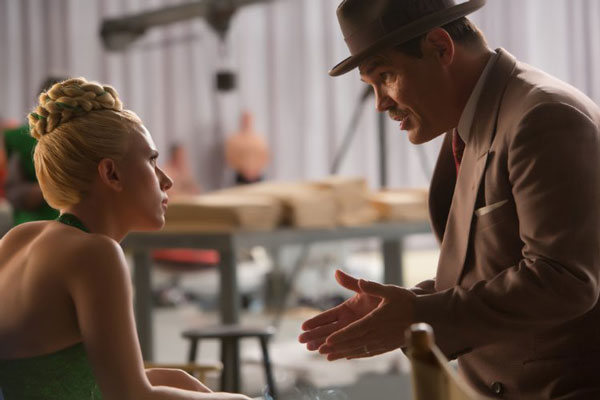 Joel and Ethan Coen's Hail, Caesar! is an incredibly fun and loving tribute to old Hollywood.
Set in the early 1950's, where the studio system was still alive and well, Eddie Mannix (a perfectly cast Josh Brolin) is Capitol Pictures problem solver. Is there a movie star in trouble? Is the studio's upcoming film in trouble? Mannix will fix it. It's his job to make sure that his stars stay out of the gossip columns and productions run smoothly. And he's got the cash, veiled threats and a slew of options at his disposal. And he does it with a smile and that air of ease that a square-shouldered, solid, confident guy has.
Mannix has got a full plate today: a disgruntled director, Laurence Laurentz (Ralph Fiennes), is having trouble with Hobie Doyle (Alden Ehrenreich), a singing cowboy, who's just been thrust upon him to star in the studios period drama; actress and swimming superstar DeeAnna Moran (Scarlett Johansson) has just gotten herself in a familial pickle and song-and-dance man Burt Gurney (Channing Tatum) has been acting a bit off lately.
But that doesn't compare to what's just happened to the biggest star in the world, Baird Whitlock (George Clooney). Whitlock has just been kidnapped during production of the latest epic, Hail, Caesar! If he doesn't give $100,000 to a group calling themselves, 'The Future', Whitlock is a goner.
Caesar! is so full of detail. Every frame is jam packed with visuals and it looks beautiful in a stylized way.
It's also full of great performances, particularity from the impressive Ehrenreich. When we first see his singing cowboy, he's in full-on matinee idol form. Riding a horse and performing his own stunts, he's got that stoic look all heroes had back in the day. But then he opens his mouth and we hear the most country accent this side of Mater in Pixar's Cars. He might not fit into the typical 1950's Hollywood crowd but when you need help, he's the guy to call.
Johansson, Tatum and especially Jonah Hill have relatively small roles but all are in top form here and Tatum really will wow you as the song-and-dance man. And Clooney seems to leave his bag of actor tricks at home whenever he's in a Coen Brothers film, which is a good thing. His Whitlock is narcissist and bordering on clueless.
But it's really Brolin's film. His character is really the only sane one of the bunch and, even with an offer to move on to another career in a saner industry with less hours, he's hesitant. He's a family man who's addicted to the rush of these near-insane people. And by the way, isn't it time we put Brolin in the upper tier of actors? Every performance I can remember, he's knocked-it-out-of-the-park. Here included.
Hail, Caesar! is in theaters tomorrow and also stars Frances McDormand and Tilda Swinton.