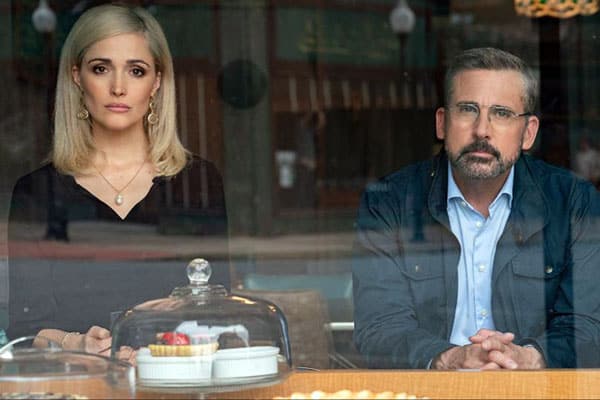 With his second movie, writer-director Jon Stewart's Irresistible, definitely manages to avoid any sophomore slump. The film, a satirical take down of America's political system, is pretty much an as-the-moment film as you can get.
The film stars Steve Carell as Gary Zimmer, a democratic campaign consultant who was in charge of Hillary Clinton's failed 2016 presidential bid. After the loss and still smarting from defeat, he spots a viral video of a potential small town candidate looks like he might have it all.
The video shows Col. Jack Hastings (Chris Cooper) going off on his local town council about the treatment of immigrants in their little burg, Deerlaken, Wisconsin. Zimmer, never one to miss an opportunity, swoops into town and convinces Hastings to run for mayor.
Once word gets out, Faith Brewster (Rose Byrne), his rival and Republican counterpart, offers her services to his opponent, the incumbent mayor Braun (Brent Sexton).
So, what happens when big time, big city politics collide with small town sensibilities? Pretty much what you'd expect from a Stewart and Carell joint. There's a lot to laugh at and that's a good thing because if not, you'd be (hopefully) steaming mad. It's no secret that politics it's all about the benjamins and thankfully Stewart doesn't talk down to the audience, which films like this certainly can. He treats the audience more like the people of Deerlaken: "Can they do that?" "Wait, you're spending how much to do this?" Yes, they are!
Carell and Byrne are delightful, and the sexual tension between two frenemies is fun to watch. They're both jackasses in their own way, both two sides of the same coin. It's just that Carell works for the side that (one always hopes) actually looks out for the American public.
Cooper, as the ideal, every man political candidate is terrific (as usual) and has casting is spot-on. I mean, who wouldn't want him as their mayor? Heck, who wouldn't want him as their president? Topher Grace and Natasha Lyonne pop up as Zimmer's cynical lackeys and are good for a few laughs.
Mackenzie Davis has a nice part as Hastings' daughter, bringing a small-town wholesomeness to the role. But, there's a twist to the story and she's the major catalyst behind it. It turns out that big city elites shouldn't overlook people in the heartland.
Stewart got out of the daily skewering game back when he left Comedy Central's The Daily Show, but even though he's been on the sidelines doesn't mean he hung up his cleats for good. The film doesn't really roast either party but he does make you wish (hope!) for a future that is far and away from what's on-screen.