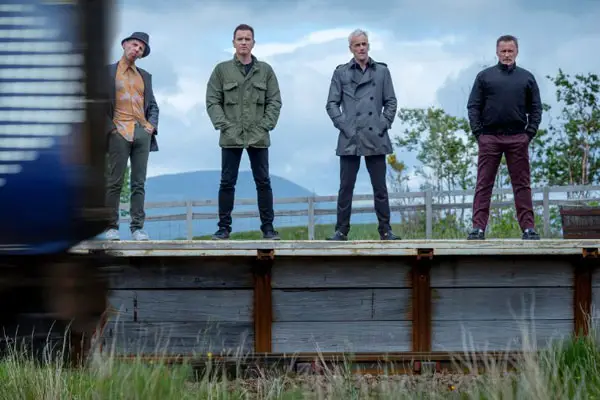 T2: Trainspotting reunites director Danny Boyle with the original cast of Trainspotting, 20 years on. Ewan McGregor, Ewen Bremner, Jonny Lee Miller, and Robert Carlyle are back as the Scottish anti-heroes that were (with the exception of Carlyle's Begbie) struggling with heroin addiction in 1996. Life has moved on, with Renton addicted to running from his problems, Sick Boy addicted to hookers and cocaine, and Spud… well, Spud hasn't fared very well at all.
After stealing the money from a large drug deal from his friends, Renton made it to Amsterdam, where he is drug free and working in a small accounting firm. A personal tragedy finds him returning to an Edinburgh he barely recognizes, where he's unable to keep from looking up his old friends, Spud (Bremner) and Sick Boy (Miller), even though they might not be all that delighted to see him. There's a lot of unresolved animosity between all three; particularly Sick Boy and Renton, but the biggest problem looming on the horizon is that Begbie is fresh out of jail, and determined to have his revenge on Renton.
Loosely based upon Irvine Welsh's follow up novel, 'Porno', T2: Trainspotting takes a bleak look at our own mortality as these characters, now all in their forties and battling various issues, come to terms with the fact that death is pretty much the only certainty in life. That said, T2 also brings a lot of humor, and its more overt than we had in Trainspotting. Boyle does a good job of reminiscing while also delivering something new, and fans of the original movie will definitely appreciate that. We also, finally, get to learn why and how the franchise is called Trainspotting.
The movie has its faults, though; it's too long, the female characters (in particular Kelly MacDonald's Diane) are woefully underused, and there are moments that seem to be a little too far-fetched and ridiculous, but the characterisation is excellent. The twenty-year gap has allowed each of these actors to expand upon and hone their skills, but they've also not forgotten what makes these characters tick. Boyle's direction and John Hodge's script has enabled the main quartet to really bring emotional depth to the movie, in particular Bremner, who is incredibly moving as the emotionally vulnerable and desperately sad, Spud. In fact, it's hard to find fault with any of the main cast performances, because each and every one nails it.
Though all at war with one another, they are all united by so many common bonds, as well as a deep affection for one another, that it's impossible for them to escape their shared past. T2: Trainspotting doesn't come to a happy ending, per se, but a satisfactory and realistic one nonetheless, and though the sequel might not match up to the dizzying heights of cult success that the first one achieved, it is still a very welcome, enjoyable, and well-executed return to the franchise, reminding us all to choose life…before it's too late.