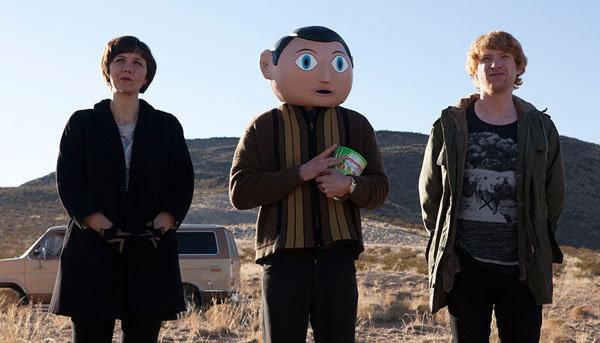 Frank, the new film starring Michael Fassbender, Maggie Gyllenhaal and Domnhall Gleeson, screened at this year's SXSW Film Festival. It was high on my list of films I wanted to see and I tried everything I could to squeeze it into my schedule. But, I just couldn't make it happen.
Now that I've finally seen it, I'm thankful to the movie Gods that it didn't work out because Frank stank.
Directed by Lenny Abrahamson, Frank is about a wannabe musician named Jon (Gleeson) who, out of a twist of fate, joins a fringe pop band fronted by Frank (Fassbender). Frank is an apparent musical genius who hides his head inside a giant fake head. Yeah, he's got issues.
Also in the mix is bandmate, Clara (Gyllenhaal). She's cold, scary and getting on her bad side isn't the smartest thing to do. Guess what side Jon quickly ends up?
When Jon is invited to join the band in a remote house in Ireland to record their latest album, he can't resist the offer. But, as he tries to insert himself into the fabric of the band, he throws off the balance of the group, becoming even more of an outcast. Except to Frank.
Gleeson holds the film together. He's our window into this whole crazy world, even though he's a bit delusional himself at times. The more time Jon spend with Frank and company, it's apparent that he doesn't belong in this world. And the more time we, the audience, spend with them, we realize that as well.
The main gimmick that Frank hides behind this big, papier-mâché head starts to get tiresome. Fassbender does wonders with it, I'll admit. He keeps it interesting throughout but the story itself stalls while the band is recording the album. The album has, in the film, taken forever to record (thanks to Frank's obsessiveness and attention to detail) and it feels like that as you sit and watch it unfold. Slowly unfold.
With Gyllenhaal's Clara, basically you get what you see. Once you size her up, she is who she is so there is no arc she gets to play.
The film is about mental illness, not just Frank but in every character. Do we succumb to it or get help and carry on?
The ending is rather touching but by the time we get there, enough is enough.
Director: Lenny Abrahamson
Cast: Domhnall Gleeson, Maggie Gyllenhaal, Scoot McNairy, Michael Fassbender