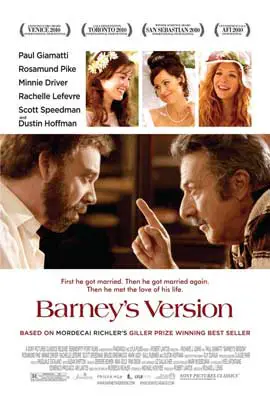 Is there nothing Paul Giamatti can't do?
The guy is just immensely watchable in anything – good or bad. Several years ago, he was in a British film called Thunderpants. It's about a boy's amazing ability to… break wind… with such force, that the U.S. Government recruits him to become an astronaut. Oddly enough, this didn't win any awards (shocking!) but watching this film, you could tell Giamatti was having a great time. Which leads me to Barney's Version.
Based on the novel by Mordecai Richler, the movie follows the life of Barney Panofsky (Giamatti) as we watch him through 3 marriages, a popular TV show and a possible murder rap.
His first marriage to the ill-matched Clara (Rachelle Lefevre) in early '70s Rome is short but eventful. By the time he meets his 2nd wife (Minnie Driver), he's a successful producer. At his wedding, he meets wife number 3, Miriam (Rosamund Pike). Yes, at his wedding.
He's also hounded by a detective who is bound and determined to prove that Barney killed his best friend (Scott Speedman) back for cheating with Driver. And then there's his funny, opinionated former cop of a dad, Dustin Hoffman.
There's no lack of boredom in Barney's life.
And although his life is interesting (and don't me wrong, it is), the real joy of the movie is the performances – which are wonderful. Watching Giamatti age almost a lifetime in front of our eyes is a joy to watch. He's in every scene and not once does your mind wander from the screen. Hoffman deserves a film all his own as Barney's father; he steals every scene he's in. Rosamund Pike made me want to go back and revisit some of her past films (Atonement, Made in Dagenham).
The rest of the cast turn in top-notch performances as well; Speedman as Barney's best friend and possible murder victim, Driver and Lefevre as his first two wives and Mark Addy as the police officer who is a constant thorn in Barney's side.
Director: Richard J. Lewis
Cast: Paul Giamatti, Dustin Hoffman, Rosamund Pike, Minnie Driver, Rachelle Lefevre, Scott Speedman, Bruce Greenwood, Macha Genon