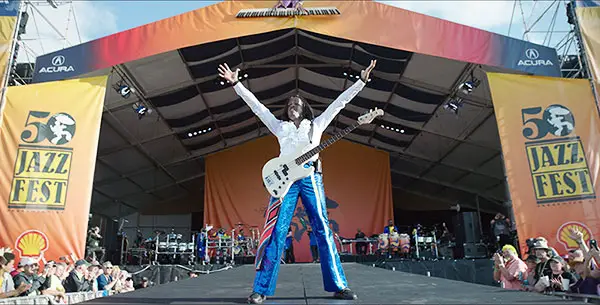 The New Orleans Jazz Fest is one of those things that everybody should experience at least once in their lifetime. The actual name, The New Orleans Jazz and Heritage Festival, starts every year at the end of April (unless there's a pandemic happening) and features over 7,000 musicians on 14 stages in the span of eight days. It brings together people from all walks of life and from all over the world and it's something that should absolutely be on your bucket list.
But the music and people aren't the only draw, it's the food. The oh-so-incredible food that you can get there. Louisiana have some of the best cuisine in America and you can literally sample almost anything you want there. Heck, I still dream about a crawfish etouffee burrito I had one late afternoon before watching Lenny Kravitz perform.
Filmed during its 50th anniversary in 2019, Jazz Fest: A New Orleans Story, brings that energy and revelry you experience at the festival and showcases it in the theater with live performances, both past and present. From Bruce Springsteen, Jimmy Buffet, Katy Perry, Earth, Wind & Fire, Al Green and Aaron Neville to musicians you've never heard of but are just as fantastic.
Directors Frank Marshall and Ryan Suffern delve into the beginnings in 1970, where the late George Wein (who was thankfully interviewed for the film before his death) helped shepherd the festival to life. As he said, his sole purpose that year  was to make it a celebration of New Orleans and its culture. And booking the great Mahalia Jackson and Duke Ellington to perform certainly didn't hurt the ticket sales.
They touch on Hurricane Katrina and the devastation it caused the city and how performers like Springsteen and Buffet helped bring the festival – and the crowds – back that year.  And they show so much food that you'll be starving by the time it's over.
As for the performances, there are so many: Springsteen's 'My City of Ruins' blew me away, as did Katy Perry's gospel mash-up of 'Firework' and 'Oh Happy Day.' And Jimmy Buffet's version of 'You Can't Always Get What You Want' at the end of the film is a really nice closer.