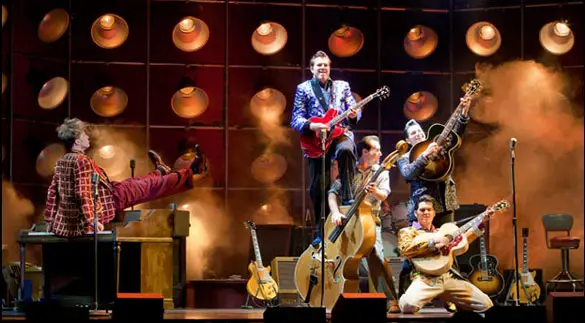 I love most anything from the 50's, especially the music. Growing up, I listened to Elvis and Jerry Lee Lewis, read their biographies and even grew to love that awful Lewis biopic, Great Balls of Fire, starring Dennis Quaid. And a couple years back, I even went to that grand mecca of rock and roll, Sun Studios in Memphis.
I loved – and still do love – the music so I'm not sure why, when I had the opportunity to see Million Dollar Quartet on Broadway a handful of times, I always decided to see another show. It won a Tony Award for Levi Kress who played Jerry Lee Lewis and was also nominated for Best Musical and Best Book of a Musical.  
After finally seeing the show last night at the San Diego Civic Theatre, I'm admitting that I'm a big dummy because the show is wonderful.
The event takes place on December 4th, 1956 at Sam Phillips' (played by Vince Nappo) now historic Sun Studios, the birth place of rock and roll. Carl Perkins (James Barry) is recording the follow-up to his hit record as Jerry Lee Lewis (John Countryman), barely out of his teens, walks in. Cocky and brash, Lewis starts to tear it up on the piano but when Elvis (Cody Slaughter) – who's just left Sun Records – and Cash (Scott Moreau) – who's about to leave – walk in, that's when the real fun starts.
And that's when Phillips, who is no dummy, rolls the tape and what we get is an hour and a half of fun.
Think about how hard it is to cast a show like this? First of all, the actors have to have the vocal chops and also be able to play their characters instrument like a champ. They've got to bear a passing resemblance to their real life counterparts and finally, they've got to be able to act. Not an easy thing to do and in this production, they've mostly got it right.
James Barry as Carl Perkins is hands down the best of the bunch; great actor and a damn good singer and performer. Perkins never achieved the level of success the other three did and even in the early stages of his career, you could see some kind of jealousy creep in, especially with Elvis (who sang his hit Blue Suede Shoes on Ed Sullivan) and Barry captures that perfectly.
Cody Slaughter as Elvis is the guy who most embodies his character. In looks, sounds and moves, Slaughter knocks it out of the park.
Nappo as Phillips (who is basically the narrator of the show) and Moreau as Cash are perfectly fine but unfortunately the weak link – acting wise – is Countryman as good ole Jerry Lee. He's not awful by any means it's just that his acting isn't up to the caliber of the rest of the ensemble. But, honestly, when he starts banging on that wooden piano, I didn't really care. He's pure Lewis and you realize why he was cast; knocking back his chair, pounding the keys with his foot and literally bending over backwards while playing will win you over like it did me.
The final songs have the icons singing their best hits and because the holidays are right around the corner, they gave us an extra song that's perfect for this time of year.
Million Dollar Quartet is currently playing in San Diego, for tickets, click here.