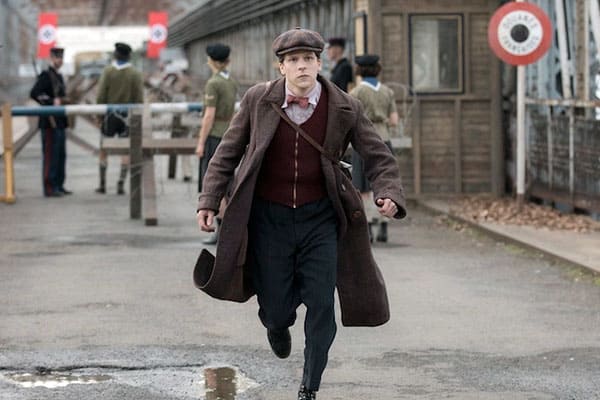 It's a safe bet to say that a lot of us know about Marcel Marceau through the late Robin Williams. His impression of the famous mime is deeply embedded in my memory. That's not to say that Williams treated him as a joke, far from it. Marceau almost single-handedly brought the art of mime into the public's consciousness. But before he became the Marcel Marceau we all know, he was a young Jewish actor named Marcel Mangle. And he helped save thousands of orphaned children from the Nazis.
By day, the young Marcel (Jesse Eisenberg) worked in his father's (Karl Markovics) butcher shop. While at night, he worked on his craft at local theaters. Yeah, things are starting to get crazy with this whole Nazi thing, but like most young people (and actors), it was all about him, him, him (me, me, me!). He wrote plays and pined after girls, namely Emma (a radiant Clemence Poesy). But when he actually witnesses the inhumanity of Hitler's army, he decides to join the French Resistance.
Eisenberg has never been better. There's a scene where orphans have been piled into the back of a truck. They're scared and have no idea what lies next. Marceau, seeing their frightened faces, walks to the truck and uses his miming skills to bring a bit of light to their day. They smile, we smile. His scenes with the children really make the film worth watching.
As the infamous killer Klaus Barbie, Matthias Schweighofer, brings a suave coldness to the role. He's a family man who can compartmentalize his work with the best of them. In one scene, Marceau and Emma are attempting to transport a group of orphans to Switzerland. Barbie boards the train and questions him as Emma hides. It's so tense that you might actually breath a sigh of relief when it's over.
One of the final scenes has Eisenberg performing in front of a group of American soldiers. Ed Harris, as General George Patton, introduces him. The soldiers at first don't know what to think as he's performing. But soon, he's got them laughing and applauding. Eisenberg reportedly worked his butt off on this routine and it shows.
Written and directed by Jonathan Jakubowicz, the film doesn't break any new ground, but it does add another layer to the many, many tragic stories that we've already seen on film – Schindler's List and The Pianist are among them. It also adds to the legend of the brilliant Marcel Marceau.