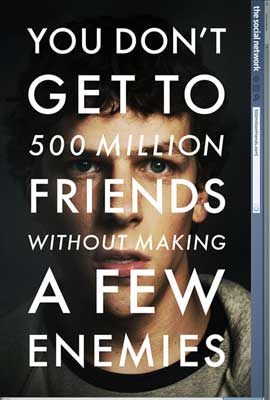 The Social Network
Director: David Fincher
Cast: Jesse Eisenberg, Justin Timberlake, Andrew Garfield
Writer: Aaron Sorkin
The opening scene of The Social Network starts off mid-conversation with Erica (Rooney Mara) trying to dig into the brain of Mark Zuckerberk (Eisenberg).
As you can probably guess, it doesn't go well.
From the moment the actors open their mouths, you can tell that this is a script from Aaron Sorkin. The quick pace, the back and forth banter he is known for is only one part of the fabulous components that make up the film.
The brisk direction by David Fincher and the acting are all Oscar worthy. I'm serious. This film does not let you down. It's throughly engrossing from beginning again.
The Actors: There's not one sour performance in the bunch.
Eisenberg may just win an oscar for his portrayal of the Facebook founder. As Erica tells him, "You're not an asshole, Mark. But you're trying really hard to be one." And that describes his portrayal perfectly. At once, he's both admired and hated so you never really know if truly is an a-hole or not.
With Eisenberg, Andrew Garfield, Justin Timberlake and Armie Hammer, we're witnessing a cast that is connecting on all cylinders.
I know… Justin Timberlake? The guy is talented. He oozes scumbag in the film.
And finally, Armie Hammer. Where did this guy come from? He plays both Winklevoss twins – Both of them. To be completely honest, I seriously thought Fincher found a pair of twins to play the parts. Only when I got home to see who this guy was, that's when I was really blown away.  Never once did I think it was one person playing both roles.
Simply put, The Social Network is fantastic.