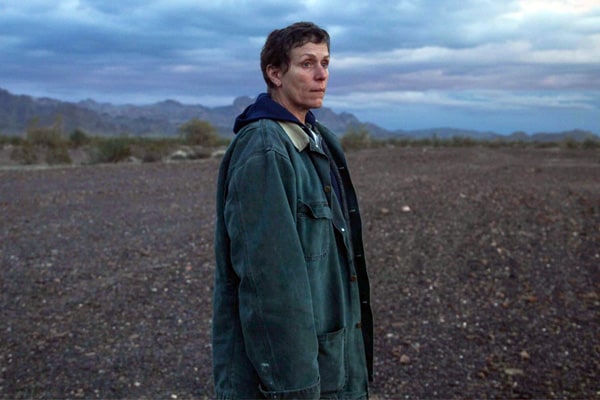 It is quite fitting that the best movie of 2020 somewhat mirrors the thoughts and feelings most of us have towards that awful year. Like 2020, Nomadland, is stark and bleak and tells the story of how absolutely lonely life can be. And also like the past year, it's also a testament to the resiliency of people and, more pointedly, people in America.
Frances McDormand stars as Fern, a widow whose job at the local factory has just ended because of the recession back in 2011. Soon, she's selling her belongings (mostly giving them away because no one can afford to buy anything) and packing up her tiny white van to search for work wherever she can find it.
She finds a temporary position working at an Amazon warehouse and becomes friendly with a woman named Linda, played – as are others in the film – by the real-life woman of the same name, Linda May. Linda tells Fern about her nomadic lifestyle and taking her advice, she's quickly living in campgrounds and working the occasional seasonal jobs to make ends meet.
Based on Jessica Bruder's non-fiction book of the same name, writer/director Chloe Zhao brilliantly draws you into the lives of Fern and the other nomads she meets along her journey, these almost forgotten people who are living life off the grid.
A lot of the people Fern meets have, like her, had tragedies that added to their decision to join this lifestyle. After experiencing a world of poverty, Linda says that the only reason she is alive is because she doesn't want to leave her dogs alone. We meet a guy named Bob Wells, who tells a crushing story about losing his son and a woman with brain cancer who states she just wants to take one final ride in a kayak to see the Swallow birds nesting.
Zhao and cinematographer Joshua James Richards create immense beauty in the desolate midwestern scenery, where the film mostly takes place. In each shot, you can feel the elements come at you. You'll need a blanket to cozy up with, no matter what time of year you watch.
And through it all, McDormand is there, her brilliance showing every second she's on screen. Fern has no remorse about the way she's living and McDormand's matter of fact performance and no-nonsense way of looking at the world only adds to the film. At one point while visiting her sister and brother-in-law, they desperately try to have her move in with them, but she won't have it. As does potential boyfriend Dave (a wonderful David Strathairn), who wants her to move in with him in his son's house. It turns out she's always had this massive air of independence and this lifestyle is exactly what she's been seeking all her life.