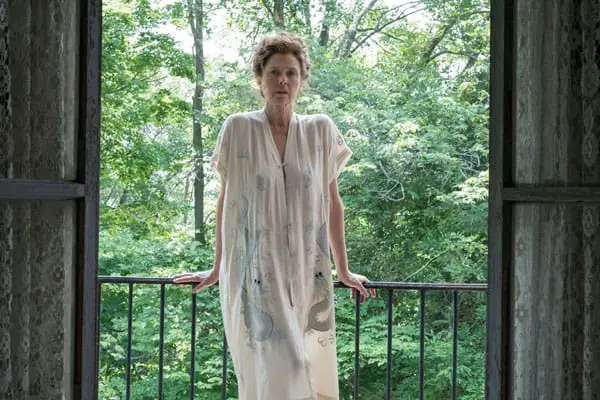 Anton Chekhov's The Seagull is a masterpiece, let's just put that out there. It's been performed theatrically thousands of times and will continue to be till the end of time. But was it a good idea to turn the story into a film? Yes and no.
Director Michael Mayer, Tony-Award Winning director for the musical, Spring Awakening, and writer Stephen Karam, himself a Tony winner for his play, The Humans, do a fine job adapting the classic play about a group of friends and family who gather at a Russian Lakeside estate during a summer weekend.
There's the patriarch, Soren (Brian Dennehy) and his sister Irina (Annette Bening), a legendary stage actress who's brought her younger boyfriend, Boris (Corey Stoll), a successful writer along for the weekend. Irina's son, Konstantin (Billy Howle), is an aspiring writer who's and love with Nina (Saoirse Ronan), a young girl who dreams of becoming an actress. When Boris eventually starts spending time with Nina, both Konstantin and Irina begin to get jealous, but each in a very different way.
The acting, for the most part, is superior. Dennehy, Benning, Stoll, Ronan and Elisabeth Moss, as the self-medicating Masha, are just terrific. They're the main reason to watch the film because they are just that good. They take lines that were written for a certain time and make them relevant and today. Howle's seems to work better as Konstantin has aged a bit, which is towards the end of the film. The first hour, it seems like he's in a different movie, almost like he's in a filmed version of the stage play.
Mayer is definitely a talented film director. His images on screen are beautifully placed and he knows how to direct a talented ensemble. But even with that, the film feels slow and at the end, you'll may just be scratching your head wondering what was even the point of it all.