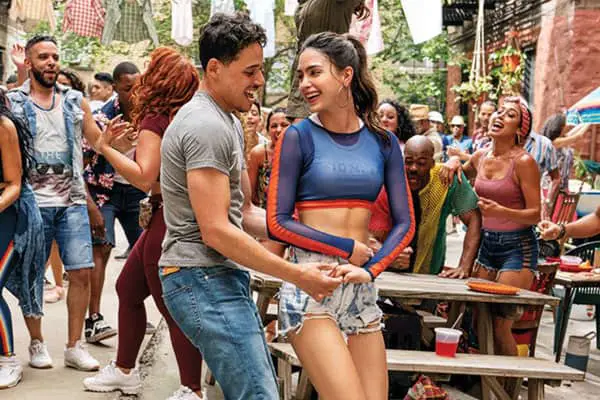 If you're not sporting a big smile on your face after watching In the Heights, director Jon M. Chu's adaptation of Lin-Manuel Miranda's Broadway musical, then call your loved ones and tell them that you need to go to the hospital immediately.
Every moment in the film is just bristling with energy and it's so infectious that you'll want Chu to direct every movie musical hereafter. Bringing a staged musical to film is no easy task but he's nailed it. He opens the story, fleshing it out so much that if you had no idea of the show's history, one might think it was developed as an original movie.
Taking place in New York's Washington Heights, we meet Usnavi (a terrific Anthony Ramos) who dreams of leaving and moving back to the Dominican Republic to take over his father's old bar and Vanessa (Melissa Barrera) who wants to design clothes. Nina (Leslie Grace) has just come back from Stanford, not sure if she wants to go back, while Benny (Corey Hawkins) is working hard at her father's (Jimmy Smits) cab company.
Every Character has a dream, some might not know it yet, but it's there permeating. It's about first generation American's trying to grab that piece of their pie, that dream, and trying to find their own place in the world to call home and build a family. But wouldn't you know it… in the heights, there is family all around, whether by blood or proximity. And home might just be right under their nose.
Bringing musicals to film, there are so many things that are visually possible that just aren't available on stage and Chu takes that opportunity and runs with it. From one musical number to the next, it's thrilling to watch.
And for fans of the Broadway musical, you'll get to seethe original Benny, Christopher Jackson, in a fun and quick cameo as an angry Ice Cream man who's at odds with Manuel Miranda's Piragüero. And Olga Merediz wonderfully reprises her role as Abuela.
From the music, direction, Christopher Scott's choreography, the colorful set design and fantastic acting, this is what all movie musicals should be.
(And try not to miss the Hamilton easter egg while Smit's is on the phone!)