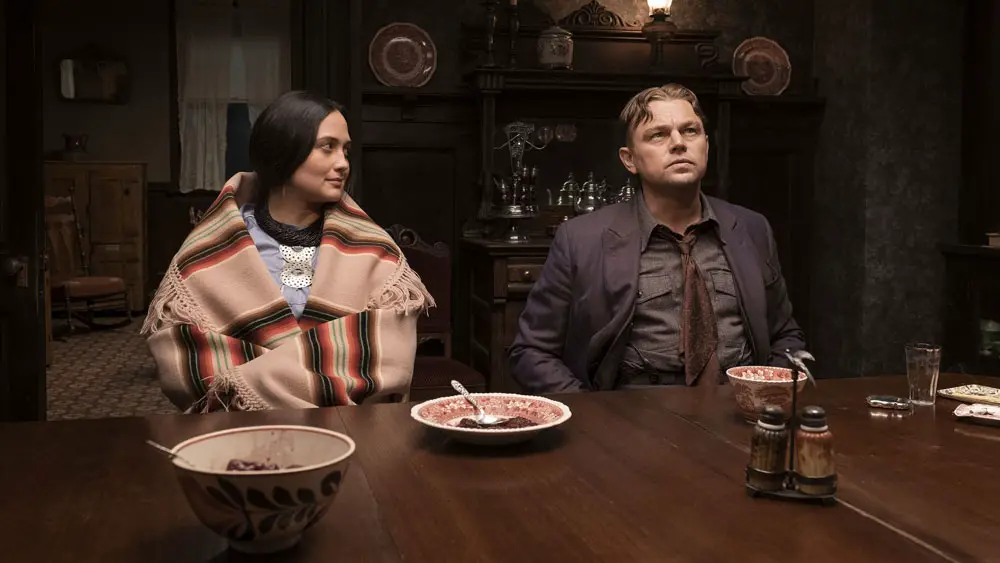 For anyone complaining about the three and a half hour run time of Martin Scorsese's new film, Killers of the Flower Moon, I would love to ask… 'Why?' Yeah yeah, we're all now used to sitting on our couches watching movies that are an hour and a half and that are about as fulfilling as a mayonnaise sandwich. But, when given the opportunity to watch a master at his craft direct brilliant actors, there are complaints out the wazoo? I just don't get it. Those three and a half hours flew by for me.
The film is based on the 2017 book, Killers of the Flower Moon: The Osage Murders and the Birth of the FBI by David Grann. as that title says, it chronicles the origins of the FBI. Here though, it focuses on the Osage Indians and the brutal murderers of their people. In the 1920s, their land produced oil that, up until then, the country had never seen. With that, the Osage became rich and, with that, people (men) from all over America settled nearby to try and cash in on those riches. One man, in particular, was named William Hale (Robert De Niro). He befriended them, helping them with infrastructure, doctors and other modern amenities. While he smiled to their faces, he was plotting how to get that money for himself. And that was by murder because each death, meant more money into his pockets.
When his nephew, Ernest Burkhart (Leonardo DiCaprio), fresh off a tour in the war, comes to town, Hale hires him to do some of his hush-hush demands. After Eugene meets and marries a member of the tribe, Mollie (Lily Gladstone), Hale is elated because he has plans for her family. The kind of plans where they end up six feet under.
When the murders and mysterious deaths get to be too much, Mollie travels to Washington D.C. to attempt to get help, since no one in Oklahoma seems to care. Soon, agents from the newly formed FBI, including Tom White (Jesse Plemons) arrive to try and piece everything together.
This true story is another abhorrent stain on early America and it's remarkable tale of how far men will go to grab a piece of some pie that they think they're owed, especially when it's owned by people they think are lesser.
Gladstone is the heart and soul of the movie. She's got such a soulful and expressive face. As members of her family die one by one of mysterious circumstances, that soul behind her eyes slowly diminishes. Her performance is incredible. DiCaprio somehow contorts his face into a downturn frown throughout the film. He's dimwitted and floating along, doing Hale's bidding because, why not? Maybe he can have his small piece of the pie too, even if he does have to resort to murdering his wife's family. DeNiro plays the ultimate wolf in sheep's clothing. He promises the Osage the moon and the stars as he shakes their hands while crossing his fingers with the other. It's one of his best performances since his last Scorsese film, The Irishman.
The film also stars a big handful of other character actors like Barry Corbin and John Lithgow and Brendan Fraser as lawyers. All are excellent.
Scorsese is still at the top of his game. I watched a behind the scenes video of him directing some scenes from the film and I could have probably watch three and a half hours of that.
This film, which was written by Scorsese and Eric Roth, is just terrific. With huge assists from cinematographer Rodrigo Prieto, composer Robbie Robertson and longtime Scorsese editor Thelma Schoonmaker, this deserves to be watched on a big screen.