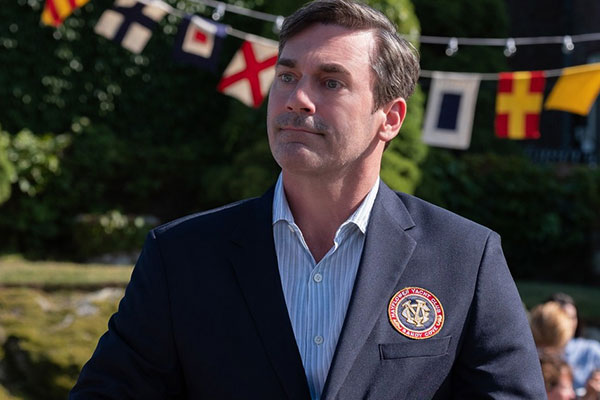 From 1978 through 1989, Chevy Chase starred in some of the funniest comedies on the big screen; Foul Play, Caddyshack, Seems Like Old Times, Three Amigos and National Lampoon's Vacation and Christmas Vacation. There were some stinkers too (Deal of the Century and Modern Problems come to mind), but his track record was pretty great. One of those films, 1985's Fletch, was definitely in the "pretty great" category.
Based on the book by Gregory McDonald, Irwin Fletcher is an investigative reporter going undercover as a homeless man to write about the drugs on Southern California beach. It was hilarious and Chase killed the role.
Now, 37 years later, Jon Hamm takes over the role in Confess, Fletch. Based on another of McDonald's books in the series, the film has Fletch searching for a stolen art collection while simultaneously becoming the prime suspect in a murder case.
As he's dogged by a pair of cops, played by Roy Wood Jr. and a funny Ayden Mayeri, Fletch hones in on a wealthy guy named Horan (Kyle MacLachlan) as his main suspect. But, as he knows all too well, things aren't aren't always as cut and dry as they seem.
Directed by Greg Mottola with a screenplay by Mottola and Zev Borow, the mystery of the killer isn't exactly hard to figure out. What the film has going for it is the performances, especially Hamm's and Annie Mumolo's, who plays Fletch's almost certifiably crazy neighbor, Eve. Oh, we also get an on-screen reunion with Hamm's Mad Men co-star, John Slattery, who plays his former newspaper editor.
Don't expect Hamm to do a copy of Chase's performance. It's totally different and Hamm definitely makes it his own. He's funny and sly when he needs to be, a bit more disheveled too. There's a handful of Fletch books to work with and it would be nice to see him back playing him again. Let's hope this film can draw in the viewers so that happens.