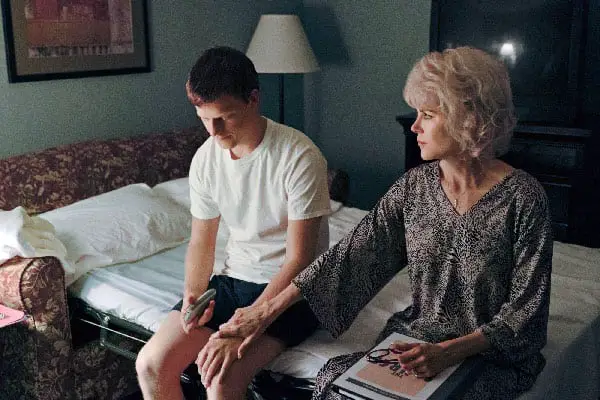 San Diego Film Festival 2018
If there is a hell, you have to believe that there's a white-hot space reserved for some of the people portrayed in Joel Edgerton's new film, Boy Erased.
Edgerton, who wrote and directed the film from Garrard Conley's memoir of the same name, stars Lucas Hedges as Jared, a smart and sensitive kid who's just about to start college. He's got a good relationship with his parents,  Marshall (Russell Crowe), who owns a Ford dealership and is also a Baptist preacher at the the local church, and his mom, Nancy (Nicole Kidman). That is, until he tells them that he's gay. They to move quickly enroll him in a conversion therapy program, to, you know, pray away the gay.
The program a man named Victor Sykes (Edgerton) and his second-in-command, Brandon (Flea). They run the program like a military academy, complete with derogatory slurs and exercise programs, all while forcing them (the boys at least) to toughen up and be "real" men.
While there he meets young people just like him, both male and female, who've been forced into the program. Most notably Gary (played beautifully by Troye Sivan), who tells Jared the best way to navigate the waters there and go under the radar in order not to get into trouble.
Jared struggles, he doesn't want to be gay. What about God? What about his dad, who is already shunning him for who he is? The poor kid tries like hell to immerse himself into the program, which obviously, will never work. With the help of his mom, though, he realizes that he is who he is and nothing can change that.
Edgerton has assembled a heck of a cast. He could have easily made each character a stereotype, Making the audience hate the dad and Syke's (well, hate him more then we do). He could also have made it where Jared why rebels early on in the film. But things are complex in real (reel) life and with his perfect combo of actors for, they show so many levels that a lot of it is just a grey area. Hedges will make your heart break, especially in one scene with a fellow college student, his first time with another guy. And Kidman hits just the right tone, you might think she's aloof at first but she's been secretly keeping her eye on things the whole time. And while we never really come to like Crowe's dad, you understand his unfortunate motivations behind the way he's acted to his son.
Even through the tragedy and the anger you get, thankfully there's a happy ending and one big, "Oh, I understand now…" moment. Just be sure to stay till the very end of the film.