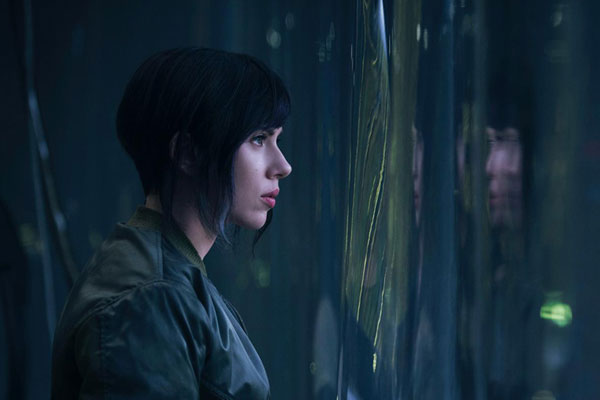 Ghost in the Shell, based on the Japanese Manga of the same name, is so visually stunning, that if you plan to check it out, it's got to be viewed on an IMAX screen. The colors and digital effects work wonderfully alongside Scarlett Johansson's performance. But beyond that, the film lacks anything to keep your interest.
Johansson stars as The Major, a cyborg counter-cyberterrorist field commander whose task force, Section 9, hunts criminals, hackers and terrorists. When Kuze (Michael Pitt) suddenly begins to wreak havoc on the city with the ability to hack into the brains of people, Major and her cohorts (including Pilou Asbæk as Batou) do everything they can to stop him.
The film is set in the future where people have willingly made themselves into manmade machines. Batou gets his eyes transformed into x-ray specs while another guy enhances his liver so he can enjoy all day happy hours. Now, this is an enhancement people can get behind!
The film, written by Jamie Moss, William Wheeler and Ehren Kruger and directed by Rupert Sanders, is like a less interesting Blade Runner. It's got all the tools but none of the depth. Johansson does her best and she totally grounds the film as much as she can but she can only do so much. The dialogue is basic almost to the point where you can predict what characters are going to say.
The saving grace again is Johansson (with a hat tip to Asbaek) and the visuals. The film seems to have been shot all on a soundstage where it's 90% CGI. It's almost like putting on a pair of Virtual Reality goggles and watching it through that lens. That alone is worth the watch.