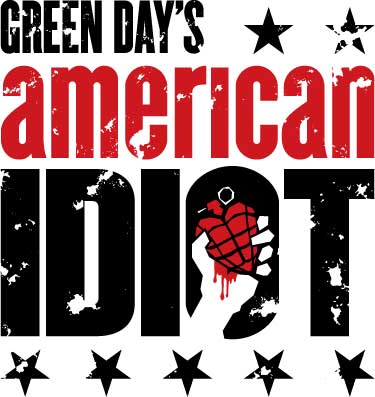 After hearing all the buzz about American Idiot, I was really excited to see the show when I was in New York the other week.
I love the Green Day album it's based on and from all the press it's generated it seemed like a mashup of Rent and Spring Awakening. It even stars John Gallagher Jr. from Spring Awakening, so it had to be great, right?
Wrong. I'm sorry to say that I didn't like it. Actually, that's too strong. I just thought it was ok and definitely not worth the ticket price they're asking ($127!)
Don't get me wrong, there were aspects of it that were wonderful. The set was amazing, the songs obviously rocked (I mean, its Green Day) and the actors voices were perfect; not to mention it seemed like they each drank a case of Red Bull before they came on stage – their energy flowed throughout the house.
The 1st 10 minutes were like the going to the greatest show you can imagine; energy, lights, pulsating music! But then the story sets in and that's where the problems start.
There is a story but only a shred of one. The main characters, Johnny (Gallagher), Will (Michael Esper) and Tunny (Stark Sands) start out as bored kids who then head off in separate directions. Tunny enlists and goes to Iraq, Will knocks up his girlfriend and is forced to stay at home and Johnny leaves town only to get mixed up in drugs.
I always think the mark of a great play/musical/film (whatever) is that you can walk away with a piece of a performance sticks with you. Something that you can vividly recall; a moment that hooked you. This show had none of that. The characters were all one note – the rebel, the do-gooder, the unmotivated. The women in the show (while good) were only there to fulfill the plots (and men's) needs.
The only character that I can actually recall was that of St. Jimmy (Tony Vincent), the drug dealer that helps Johnny spiral into disaster.
This wasn't the actors fault, they could only do as much as they were given and believe me, they did the best they could.
American Idiot is playing at the St. James Theater, 246 W 44th St, New York, NY.  For tickets, call (212) 239-6200 or visit americanidiotonbroadway.com
Cast Members:
Declan Bennett, Andrew Call, Gerard Canonico, Miguel Cervantes, Michael Esper, Mary Faber, John Gallagher Jr., Joshua Henry, Van Hughes, Brian Charles Johnson, Omar Lopez-Cepero, Rebecca Naomi Jones, Joshua Kobak, Lorin Latarro, Leslie McDonel, Chase Peacock, Stark Sands, Christina Sajous, Theo Stockman, Ben Thompson, Alysha Umphress, Aspen Vincent, Tony Vincent, Libby Winters