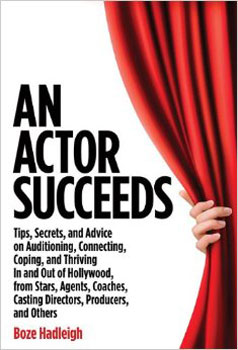 Unless we're in prime acting mode – rehearsing, filming, auditioning, etc – most actors have the attention span of small child, myself included. And Author Boze Hadleigh, whose written eighteen books mostly on the entertainment world, has got to know this because he's crafted the perfect book for us: An Actor Succeeds.
The book is a huge collection of quotes from some of the most successful actors, directors, casting directors, agents, writers and producers in our industry. And each quote from actors like Christopher Walken, Johnny Depp and Keira Knightley are wonderful nuggets full of information and inspiration. Want audition advice from Neil Patrick Harris? It's in there. How about some acting tips from Sean Penn? Not to worry because it's right there on page 46.
An Actor Succeeds is broken up five different chapters: Acting, Auditioning, Connection, Working and Coping.
Check out some examples from each chapter below:
Acting: "You have to hand it to the character actors, then and now. They do more and better acting than most leading men. Only, since they're not on screen as much, you don't always notice" – Steve Buscemi
Auditioning: "All you have to remember is 'audition' is synonymous with 'opportunity. I mean, if you absolutely hate auditioning, do you also hate opportunities? That wouldn't make much sense." – Hilary Swank.
Connection: "Acting is about people. Other people. Otherwise, you're not acting, you're doing monologues." – Daniel Day-Lewis
Working: "It's in the eyes, mostly. Don't listen just to the other actor's lines. Look at – and listen to – their eyes. That's where the emotion comes through." – Charlize Theron
Coping: "I always heard criticism is the tax on fame. They were right. And then some." – Brad Pitt
If you're looking for a book on acting that'll inspire and set a fire to your actor juices, An Actor Succeeds is definitely the way to go.